Hej igen alla bloggbesökare och kul att många av Er börjat ta för vana att kika in här bort emellanåt! 🙂
Inget direkt nytt på whiskyfronten för min del de senaste dagarna men kan avslöja att det kommer hända lite trevliga grejer här framöver då jag har en del nya sorter på gång att smaka av och en del på inkommande. Det börjar även bli dags att samla ihop gubbarna i AWC och försöka köra ett litet race igen efter sommaren. Dessutom drar vi nu också åter igång en "intern" runda med Samples Of Whisky-projektet och med folket ifrån The Peaty Whisky Club och där diverse inbjudna gäster kan delta och vara med och slåss om de 20 lediga platserna.
Även en och annan whiskyfestival går ju av stapeln nu under höstsäsongen (se gärna kalendersidan) men där det tyvärr åter ser ut som att jobbet får gå före nöjet för egen del då det blir en del krockar i schemat. Får hoppas att Ni som har chans att vara på plats tipsar om godbitarna ifrån eventen här istället! 😉
Däremot har jag under veckan hunnit smaka den ekologiskt odlade alen Napa Smith Organic IPA ifrån USA (Napa Smith Brewery) och som är tillverkad av råvarorna Two-row-, munich- och caramelmalt samt med humle av sorterna palisade, tettanang, smaragd och cascade. Som sällskapsdryck eller till smakrika maträtter av lamm- och nötkött är några av användningsförslagen som kan rekommenderas.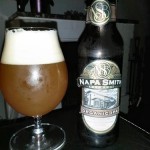 Mitt omdöme:
Med ett kolafärgat och brunt utseende som denna alen har så blir man givetvis nyfiken att få stoppa näsan i glaset och lukta lite. Skummet är högt och fylligt och man anar karamell, kolatoner och en del grapefruktinslag. 
Överraskande lätt och liknar nästan lite vanlig lageröl vid första smakintrycket och där det förmodade grapebeskan är påfallande liten. Anar däremot lite svaga och goda toner av söt mandarin mot slutet och där även lite vanilj möter upp. Något jästig i smaken och där kolsyran ligger nånstans runt medelnivå.
Överlag så känns den som en medelfyllig och medelgod öl som varken blåser en av stolen eller som man kan bli alltför besviken på. Visst saknas det kanske ett mera rejält beskbett i denna men tycker den känns ganska trivsam ändå och med en hygglig karaktär. 
 SORT: Napa Smith Organic IPA
 SB ART.NR: 1695
 TYP: Ale
 STYRKA: 7,0%
 PRIS: 23,90 kr (355 ml)
 LAND: 
 PRODUCENT: Napa Smith Brewery

 LEVERANTÖR: TOMP Beer Wine & Spirits AB

 Ganska god (Inga fel men står inte ut så mycket. Den är nästan "där"!)
 

Rating: ★★★★★★☆☆☆☆ 6/10

 
Vill också tipsa om riktigt gött tunggung i världsklass av "Deventy"! Check it out!!
[Musiktips:]
"Just play it out LOUD!"