SMWS Sample Box No.1.
Sample nr 22 ur SMWS-boxen/Adventskalendern ifrån förra året och SMWS Sweden bjöd, så här i efterhand när detta skrivs på en liten överraskning med sin kvarvarande och fantastiskt goda doft i glaset. (I vanlig ordning sker provsmakningen som ett blindprov och där dechiffrering av det rätta svaret görs i efterhand.) Min gissning på ursprungsdestilleri var som vanligt helt åt fanders men där jag bara kan rekommendera att man testar själv för att se och lära… #dyngsvårt 😉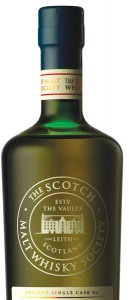 SMWS-SAMPLE #22:
Se tidigare: #1, #2, #3, #4, #5, #6, #7, #8, #9, #10, #11, #12, #13, #14, #15, #16, #17, #18, #19, #20, #21
93.62 Ciao Bella and the Blacksmith!
Ålder: 14 år
Alkoholhalt: 61,2 %
Fat: Refill barrel
"Our blacksmith in a leather apron cooking Mediterranean: sweet tomato, pizza bread, and
roasted aubergine on a barbeque. Earthy diesel oil and lobster shell in fishing
boats. Smoked venison and Marie Rose sauce laced with paprika and camphor."
WHISKY:
SMWS 3.240 "Kippers in a coal sack"
STYRKA:
59,8%
ÅR: –
ÅLDER: 16 y.o
REGION:
Islay
TYP: Single Malt
PRIS: ? kr
DESTILLERI:
Bowmore
SB-ART NR:
–
BUTELJERARE:
SMWS
LEVERANTÖR:
SMWS
ÖVRIG INFO:
Sample #21, Fat: Refill barrel

SORT: (min gissning – FEL!) Chansar på… Loch Lomond?
DOFT: 3.25 Ovattnad finns det en liten spritighet i doften tillsammans med ekfatstoner, lite tea och ingefära. Ingen direkt rökighet att tala om. Alkoholhalten är väl tilltagen så här finns givetvis utrymme för några droppar vatten att mjuka upp den med och runda av lite grann.
SMAK: 3.50 Lite trevliga toner av citrus, menthol och ingefära kan uppfattas när lite vatten har fått tämja den lite grann och där den inledande spritigheten hålls tillbaka på ett bra sätt. Med ytterligare vatten och mer tid i glaset växer den ytterligare och där även en söt aprikoston kan läggas till smakregistret. Med rätt vattenmängd är detta riktigt gott!!
ESMAK: 3.50 Också avslutet vinner på lite vatten och känns elegant, mjukt och lätt fruktbaserat. En liten kryddhöjning ger en ganska lång förlängning av smakresan.
HELHET: 3.50. En whisky som vinner på att laboreras lite med för att finna rätt spädningsnivå. Träffar man rätt blir man rikligt belönad. Om inte, så är det en ganska spritig historia med stora ekfatsinfluenser och ganska stor maltton.
Ev. kommentar: Noterbart är att det i det tomma glaset växer fram lätta, söta rökdimmor och som tidigare var ganska svåridentifierbara innan… (Humm, nästan så man får en liten Islay-varning här till och med.) Doften som nu finns kvar i det urdruckna glaset spöar nu det tidigare innehållet med hästlängder, så mitt lite udda tips lyder: Häll upp en dram av denna, slå i lite vatten. Smaka på den själv, bjud frugan, hunden, vaska den eller whatever… Sätt dig sedan och doppa näsan i det nu helt tomma glaset och bara njuuuut av den helt fantastiska doften som kvarlämnats. (Mitt betyg på enbart doften i det tomma glaset landar lätt på 4.25 p!!)
TOTALPOÄNG: 13,75 / 20.00 p

Notering: 161129 – SMWS Sample Box, Blindprov (FAN)