Skotska öltillverkaren BrewDog är ett välkänt märke för den genuine öldrickaren och ofta förekommande i Systembolagets sortiment. Ölsorten Jet Black Heart är en öl som enligt bryggeriets egna hemsida är "… BLACK AS PITCH AND SMOOTH AS HELL. JET BLACK HEART IS A MILK STOUT; ROASTY MALT FLAVOURS OF COFFEE AND CHOCOLATE, BOUND TO A DECADENT FULL-BODIED RICHNESS".
På pappret en öl som verkar lovande och som jag tror kan passa mig! So let´s check this out! ?
Mitt omdöme: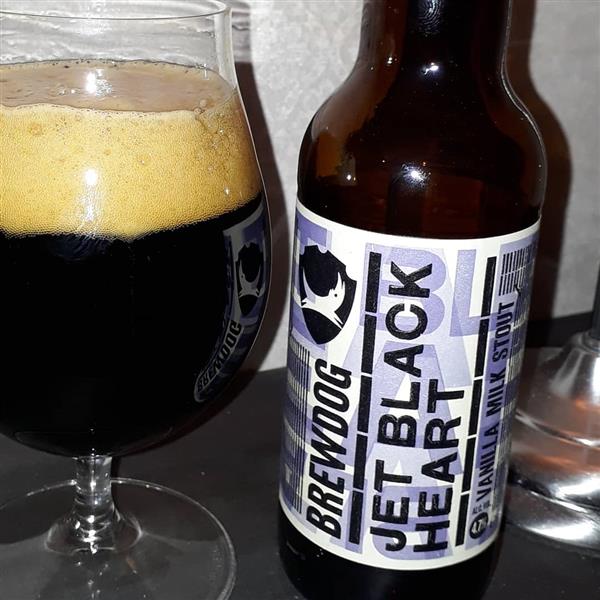 Brunguldigt skum med lätt chokladton och med inslag av vanilj och espressokaffe i doften. Lite rostade toner i bakgrunden.
Smaken är lätt krämig (hade önskat lite mer) till karaktären och har en del inslag av kaffe, choklad russin och vanilj. En del humlebitterhet finns där också som tillför och lyfter smaken och avslutet.
I min mun inte fullt så fyllig som jag hoppats på och upplever den något lite för tunn och vattnig… 6/10 p
Råvaror: Kornmalt, havre, laktos och vanilj samt humle av sorterna magnum och sorachi ace
OG: 1058 | FG: – | IBU: 30 | EBC: –
Notering: 171221, FAN – Se alla smakade ölsorter
SORT: BrewDog Jet Black Heart
SB ART.NR: 1580
TYP: Milk Stout
STYRKA: 4,7%
PRIS: 19,90 kr
LAND:
PRODUCENT: BrewDog
LEVERANTÖR: Cask Sweden AB
Ganska god (Inga fel men står inte ut så mycket. Den är nästan "där"!)

Rating: ★★★★★★☆☆☆☆ 6/10