Så var det då dags för ännu ett "kändis"-öl och Iron Maiden's Trooper Day of the Dead 4,7%. Detta är ett öl i English Pale Ale-stil och som kan ha en liten bitterhet i sig.
"Malt flavours and citric notes for a unique blend of Bobek, Goldings and Cascade hops give this deep golden ale a subtle hint of lemon. TROOPER takes its name from the Iron Maiden song which itself was inspired by the famous Charge of the Light Brigade." //Robinsons
Mitt omdöme: Trooper Day of the Dead 4,7%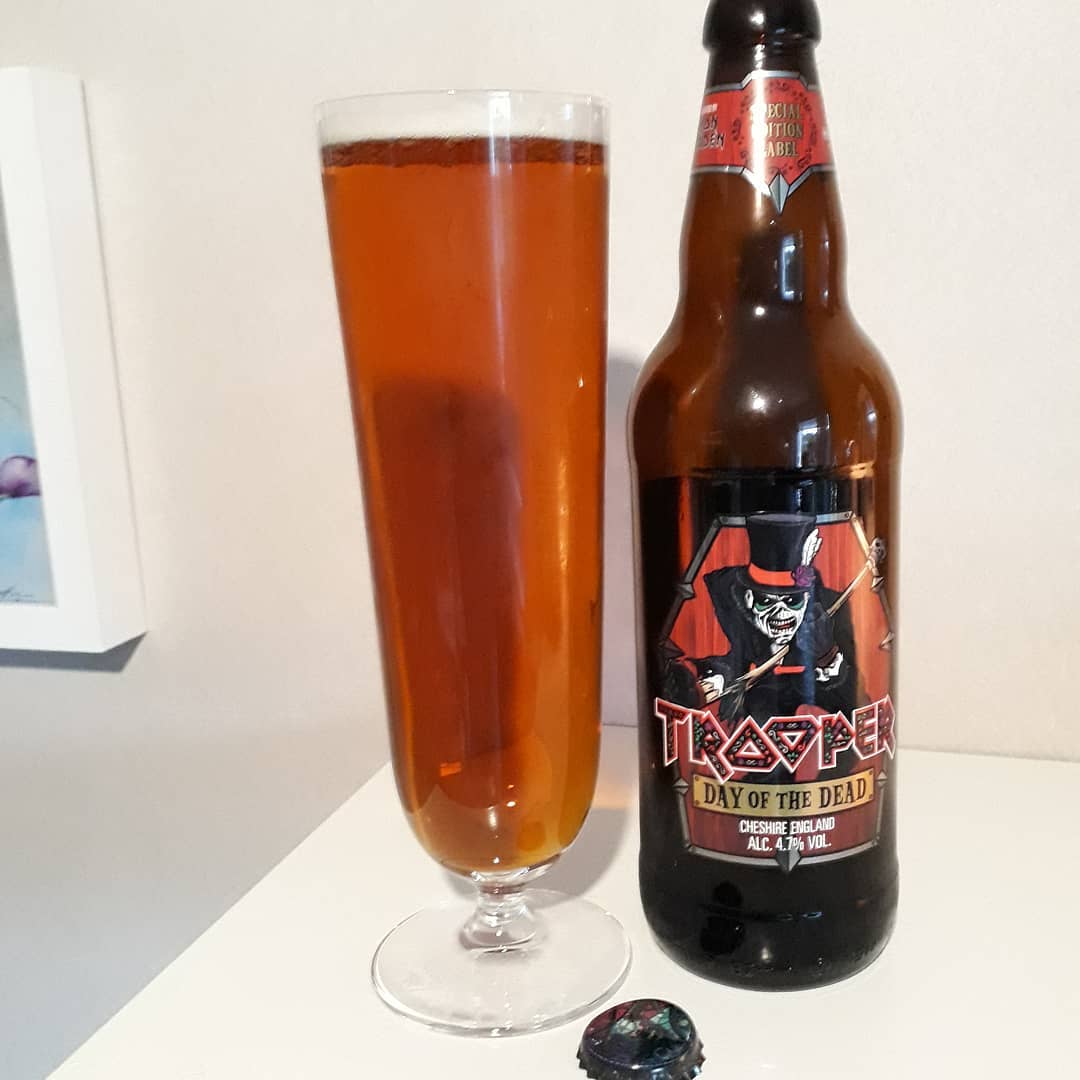 Upplever doften som ganska intetsägande och lite maltig med inslag av brunt bröd, apelsin- mandarinskal, jäst och kolakaramell och där skummet är vitbubbligt och ganska lätt.
Smakmässigt finns det även inslag av bränt socker, wellpapp och en liten bitter grapefruktston . Drickbar men inte helt övertygande för min del och där jag nästan tycker att den blir lite jobbig mot slutet… Kan nog tycka att det var lite synd att det var kollikrav (8 st flaskor) på denna!
OG: – | FG: – | IBU: – | EBC: – (Vad betyder förkortningarna?)
Mer info: –
Notering: 191005, FAN – Se alla smakade ölsorter
SORT: Trooper Day of the Dead 4,7%
SB ART.NR: 80544
TYP: English Pale Ale
STYRKA: 4,7%
PRIS: 29,90 kr (500 ml)
LAND:
PRODUCENT: Frederic Robinson Ltd

LEVERANTÖR: Wicked Wine
Medel God (Jo, tack jag kan väl ta en öl till… men sen är det bra)

Rating: ★★★★★☆☆☆☆☆ 5/10