Bandölet Obey the Riff – ett hyllningsöl till hårdrocken och ett samarbete mellan Beerium Kraftölsbryggeri och metalprojektet We Sell The Dead med bl.a Niclas Engelin ifrån In Flames.
"Fruktig smak med liten sötma, inslag av torkad ananas, aprikos, apelsin, honung och sirapslimpa.." //Sb
Mitt omdöme:

Beerium Obey the Riff (Pale Ale) 5,3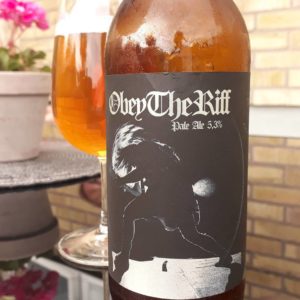 Friskt, medelfylligt öl med ett lätt klibbigt vitt skum som bjuder på en svag maltig ton tillsammans med lite underliggande honung och apelsin. Ganska söt, maltig smak med en del underliggande grapfruktsbeska toner som också drar lite åt det torra hållet.
Ett lättdrucket öl som känns fräscht och som smakar ganska gott utan några större krusiduller. Dricks igen! ★★★★★★★☆☆☆ 7/10 p
Råvaror: Kornmalt
OG: – | FG: – | IBU: – | EBC: – (Vad betyder förkortningarna?)
Mer info: –
Notering: 200719, FAN – Se alla smakade ölsorter
SORT: Beerium Obey the Riff (Pale Ale) 5,3
SB ART.NR: 34383
TYP: American Pale Ale
STYRKA: 5,3%
PRIS: 28,10 kr (330 ml)
LAND:
PRODUCENT: Beerium Kraftölsbryggeri

LEVERANTÖR: Beerium Kraftölsbryggeri
God (Verkligen intressant och här händer det trevliga grejer)

Rating: ★★★★★★★☆☆☆ 7/10