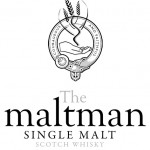 My 185th whiskypost starts in english and is especially dedicated to Andy and the rest of the crew at the Meadowside Blending Company for giving me the opportunity to trying out some of the whiskys from their fabulous The Maltman-series.
I would also like to say big thanks for the Christmas card I received (very appreciated!) and wish back to all of you a Merry Christmas & Happy New (whisky) years!
Bowmore 21 Bourbon Cask (The Maltman)
Region: Islay, Styrka: 46%, Pris: 1399 kr SB-nr: (10487)

MITT BETYG: 16,50 av 20,00

DOFT/UTSEENDE: (3,75) Här möts man av en trevlig inledning av en lätt rökig doft med inslag av vanilj, peppar och ljusa fattoner.

SMAK: (4,25) Smakmässigt växlar den direkt här upp ett par snäpp och börjar visa sig ifrån sin allra bästa sida. Citrusfrukter och vaniljtoner framträder tydligt och ackompanjeras fint av den söta röken och inslaget av bourbon-faten som nu har blivit ännu mer framträdande. Gott!! 🙂

EFTERSMAK: (4,25) Den söta röken hänger tillsammans med pepparn och fattonerna med en bra bit långt ner i strupen och stannar kvar där en bra stund och man bara njuter…

HELHET: (4,25) Känns som en mycket väl sammansatt whisky och med en härlig fat-karaktär. För min egen del som "peatfreak" hade gärna röken fått tagit ännu större plats, framför allt på doftsidan där den kändes lite anonym, men på det hela taget är detta en riktigt god mediumrökig Islay-whisky och som passar de flesta med smak för rök.
Notering: 121202, Sample, (Meadowside Blending)
För mer info, samples/varuprover


Se hela Spotify-listan med allt TUNGGUNG!