Ja, nu har nästan ett helt år gått och utan att jag ens har hunnit provsmaka och poängsätta min egen lilla "Solera"-blandning och som fått namnet The Beast. Detta måste ju genast justeras nu när tid finnes! 🙂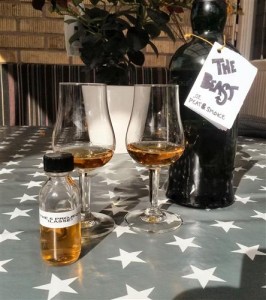 Detta är alltså min alldeles egna Vatted Malt-blandning på diverse slattar som slås ihop och som sedan får götta till sig lite med hjälp av tidens gång och där nya whiskysorter slås på flaskan utifrån mitt eget tycke, smak och tillgång.
Har även av bloggföljaren Lasse fått ett smakprov på hans egna "The 6 Project" och som jag tänkte provsmaka tillsammans med min egen The Beast, en lugn lördags-eftermiddag som denna och innan man skall dra iväg på kräftskiva och smaka på lite skaldjur.
DOFT: 4,00 En ganska träaktig doft med lite medicinalt inslag är det första som nästippen registrerar på. Förvånansvärt liten rökdoft med tanke på innehållet även om toner av torr aska lätt känns igen.
SMAK: 4,25 När man smakar på den så råder det dock ingen tvekan om var huvudingredienserna kommer ifrån. Smaken av tång och känslan och sältan man skulle få i munnen om man slickat på en sten som legat i havet utanför Islay-kusten. Riktigt god och en överraskande bra kombo! Tycker det känns som att den lite askigare Ardbeg-whiskyn i denna blandningen tar på sig ledartröjan fram till slutspurten. Där kommer de eleganta och svaga citrustonerna ifrån Laffen och de lite råare inslagen av Big Peaten ikapp.   
ESMAK: 4,25 Eftersmaken är inte jättelång men där rökdimmorna hänger kvar en bra stund.
HELHET: 4,50 En riktigt trevlig smakblandning, som ursprunget till trots känns väldigt välbalanserad och inte så brutalrökig som man från början skulle tro. (Snyggt Lasse, detta har du blandat till bra!)
TOTALPOÄNG: 17,00 poäng
DOFT: 3,75 Lite söt och maltig doft med toner av ekfat och en del rökinslag möter upp det första man nosar på denna guldfärgade blandning.
SMAK: 4,25 Mycket mjuk inledning som sakta bygger upp mot lite mera kraftfullare avslut. Känns elegant och ganska alkoholstark utan att vara spritig alls. Inslaget av ekfat dominerar och skapar tillsammans med de ganska rökiga tonerna och sötman en riktigt bra smakpalett och som man gärna vill ha mer utav.    
ESMAK: 4,00 Det förväntade rökigheten tonas ner ganska rejält av de sötare inslagen. Intressant och god smak!
HELHET: 4,25 Smakerna i denna aktuella blandningen gifter sig riktig bra och bildar en ganska rund och mjuk whisky med goda rökiga och lite kryddiga toner som kommer fram mer mot slutet. Faktiskt över förväntan och riktigt gott! Tror att lite mera rökigare whisky skulle bättra på den ännu mer! 😉
TOTALPOÄNG: 16,25 poäng