Craftbryggeriet Collective Arts Brewing ifrån Ontario, Kanada som är kända för sina kreativa öl har nu nått den svenska marknaden och där man från den 1:a juni (2018) kan köpa deras nya Radio The Mothership Imperial IPA 8,5% på Systembolaget och där jag faktiskt, hör och häpna kunde plocka upp några stycken från min lilla lokala butik. (Eloge till Sb och där jag verkligen vill se mer av detta där nya ölsorter faktiskt även kan få dyka upp på hyllorna hos de mindre butikerna också och därigenom främja spontanshoppingen lite mer!) ??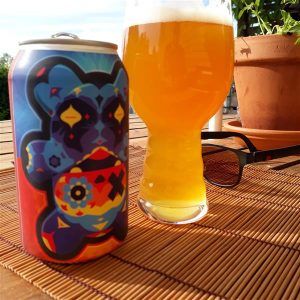 Mitt omdöme: Radio The Mothership Imperial IPA 8,5%
Doften bjuder på fylliga toner av massiv tropisk fruktighet där man kan känna mango, passionsfrukt, persika, ananas, grapefrukt och aprikos. Färgen är något oklar och är ljust bärnstens-/apelsinskalsfärgad och har en lätt klibbigt vit skumkrona som ligger kvar en stund.
Smakmässigt upplever jag den som ganska fyllig och där man även kan ana ett litet humlegenomslag mitt i all den tropiska fruktigheten och där det även finns en lättare beska i botten som inte är direkt bitig. Med viss sötma.
Detta faller i god jord hos mig och får helt klart tummen upp! 8/10 p
Malt: –
Humle: –
OG: – | FG: – | IBU: 100 | EBC: – (Vad betyder förkortningarna?)
Mer info:
Notering: 180427, FAN – Se alla smakade ölsorter
SORT: Radio The Mothership Imperial IPA
SB ART.NR: 1238
TYP: Imperial IPA
STYRKA: 8,5%
PRIS: 28,90 kr (335 ml)
LAND:
PRODUCENT: Collective Arts

LEVERANTÖR: TOMP Beer Wine & Spirits

Mycket God! (Denna bör upplevas och drickas av gemene öl-fantast)

Rating: ★★★★★★★★☆☆ 8/10