Lill-lördag och ledig känns ju som en bra kombination! Nått annat som också känns minst lika bra är att ha möjligheten att kunna testa två versioner av en RIKTIGT BRA singlemalt, nämligen Bruichladdich Port Charlotte PC8 Ar Dùthchas och en sample av PC9 An Ataireachd Ard  som jag lyckats fått tag på…! 🙂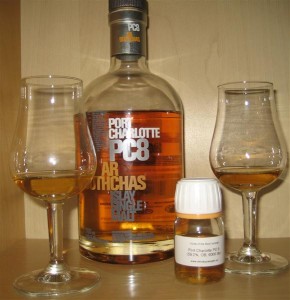 Jag har tidigare smakat PC8 och då givit den hela 19,25 p av 20,00 vilket placerar den högst upp i skalan under "En legend, TOP OF THE LINE Absolut godaste. KANON!" Det bådar ju om inte annat gott inför detta lilla möte, två legender emellan och det skall bli intressant och kul att nu få ställa dessa båda mot varandra…
DOFT: (4,75) Mmmm! Rökdoften i PC9:an är precis lika eldig, kraftig, mörk och dov. Aska som har blandats med kol och en skopa lakrits känns lika tydligt även här… Kanske är PC9:an aningens dovare men detta är ytterst marginellt.
SMAK: (5,00) WOW! Som ovanstående beskrivning fast x3! TOP OF THE LINE! Det smakar rök i massor samtidigt som askan, tjäran och sötman virvlar runt och slåss om andraplatsen… Detta är BRA, RIKTIGT BRA och man vill bara ha MER! 😛 🙂 Ja, skillnaden mellan dessa båda är väldig hårfin, om än någon alls… på pappret lite mindre styrka i PC9:an med 59,2% mot 60,5% i PC8 men det är inget som känns tycker jag. Tycker mig dock ana nånting mer "karamell-aktigt" i PC9:ans bakgrund.
E-SMAK: (4,75) Avslutet är långt, värmande och varken för beskt, sött eller vasst utan klingar av i fin samstämmighet… Rökdimmorna gör sig påminnda långt efter man svalt, och det är ju precis som man vill ha det! 🙂 Detta är gött, JÄTTEGÖTT och möjligen känns eftersmaken i PC9:an ytterst, ytterst mindre rökig än PC8 men inte så det påverkar poängen åt nått håll.
HELHET: (4,75) Detta är en helt underbar och kraftfull rökare som definivt är med och slåss om platserna om världens TOP-5 bästa, i klassen "rökig whisky! KÖÖÖÖP! Ja, det var riktigt kul att få smaka dessa båda tillsammans. Sen om det är värt att jaga häcken av sig för att få tag på några droppar eller en flaska av PC9 låter jag vara osagt då skillnaden enligt min åsikt är ytterst liten, smakmässigt sett. Men för den personliga resan "on the whisky-mile" är det ju definitivt värt ett försök! 🙂
Jag har tidigare skrivit att Port Charlotte P8 tillhör en av världens top-5 bästa och PC9 kvalar också in där… och som bakgrundsmusik till denna mycket njutningsfulla whisky kan jag inte annat än att rekommendera ett av världens bästa band… EVER!
Notering: 120222, Privat smakad sample (FAN)