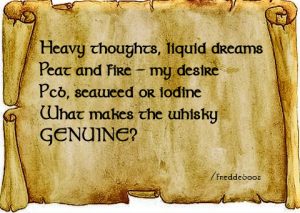 I går firades Burns Night till den skotska nationalskalden Robert Burns ära och där jag förutom litet eget diktande i whiskyns tecken 🙂 tänkte fortsätta på den inslagna vägen och där även min nästa whiskypost handlar om en whiskysample ifrån serien Elements of Islay.
Också detta smakprov har införskaffats genom Master of Malts och via deras samarbete med Drinks by the Dram och där fatstyrkan nu har ökats på lite mer (i jämförelse med den tidigare smakade Peat (Pure Islay) 45%) i denna Peat (Full Proof)-versionen och som har buteljerats vid 59,3%.
Mina omdömen/kommentarer: Elements of Islay Peat (Full Proof) 59,3%

DOFT: Lätt acetonröknyanserad doftbild till att börja med. Snart blommar lite mera vanilj ut tillsammans med liten ton av gummi och utbrunnen eldstad. Anar inte så mycket av den alkoholhöga nivån här även om doften känns mer ljus än dov.
SMAK: Lite mer bett i smaken som märks direkt. Lite kreosot och mera askiga inslag breder ut sig. Härligt!! Här finns även en lite stramare beskhet i botten som också känns ganska torr. Lite sötare rök växer fram med mer tid i glaset.
ESMAK: Något längre än medel men kanske ändå inte så fullt brutal som man (jag) hade hoppats på. 🙂
HELHET: En god rökwhisky som trots sin styrka inte är dunderbrutal utan känns ganska balanserad med inslag av torkat gräs och en god och med en ganska fin maltig ton. Inte heller fullt så (ovattnad) spritig som man kan tro med tanke på den höga styrkan. Också denna kommer i en 50 cl-flaska…
TOTALPOÄNG: 16,75 av 20.00 p


Notering: 190126, Sample, (FAN)