Mitt egna lilla "samplesberg" ligger för närvarande en ganska anständig och överskådlig nivå med flaskor och där jag i år inte själv har nån egen liten kul whiskykalender/adventskalender att längta efter och se fram emot inför mörka December månad och julens alla mysdagar.
Det är ju dock lätt att man blir ganska sugen när man bläddrar och surfar runt lite bland nätets alla diverse whiskybloggar och whiskysidor där allehanda godsaker provsmakas runt omkring i stugorna så här lagom till första advent-helgen.
En blendedwhisky som jag bland annat läst lite om och som runt om i whiskykretsar verkar vara ganska omtyckt är det (tror jag) senaste släppet av Elements of Islay Peat & Sherry och som är en blended-whisky "Exclusive for Sweden" ifrån Elixir Distillers. Denna verkar i skrivande stund dock vara helt slutsåld på Sb och hos leverantören Clydesdale AB. Men som av en händelse råkade det faktiskt finnas just en egen införskaffad sample av denna whisky i min ägo och som fick bli min alldeles egna "lucka #1-whisky" att gosa med framför brasan under gårdagskvällen. Sláinte! 🙂
WHISKY:
Elements of Islay Peat & Sherry (Exclusive to Sweden) 55,3%
STYRKA:
55,3%
ÅR: 2019
ÅLDER: –
REGION:
Islay
TYP: Blended
PRIS: 579 kr (50 cl)
DESTILLERI:
–
SB-ART NR:
40576
PRODUCENT:
Elixir Distillers
LEVERANTÖR:
Clydesdale AB
ÖVRIG INFO:
Tillfälligt sortiment
Mina omdömen: Elements of Islay Peat & Sherry (Exclusive to Sweden) 55,3%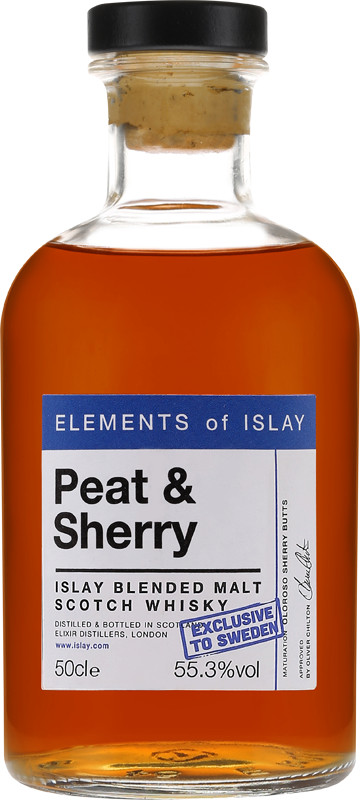 DOFT: Söta, fullmatade sherryklingande dofter bjuds näsan på här. Riktigt gott och även en riktig mahoganyfärgad fröjd för ögat!
SMAK: Upplever smaken om än något ännu sötare än doften och där munkänslan är mycket mjuk och len. Med en lite lättare träfatsbeska i botten och den senare delen. Här finns förutom rejäla sherryavtryck även en del, och som även namnet antyder en del peatiga inslag och som i min mun landar knappt under medel ifråga om styrka. Hade nog hoppats pä ett litet betydligare och större "heavilypeated"-inslag här och där jag tycker att den känns något mer sherrydominerad i frågan om smak. Dock är detta ändå riktigt gott skall tilläggas!!
ESMAK: Lite mera till tillbakahålen sötma mot slutet och där sherrybeskan och den lite lättare sherrysträvheten visar sig med lite torrare nyanser. Inte vrållång eftersmak men väl nånstans kring medel eller strax något längre.
HELHET: Det är gott, sherrynyanserat och lite lätt rökbetonat. Också ganska sött och där tankarna går åt kolatoffée-hållet men där det finns en ganska väl uppbalanserande beskhet/stramhet i bakgrunden.
Ev. kommentar: Söta sherrywhiskys brukar ofta tilltala mig och så även denna gången. Känner mig något lite besviken och snuvad på torvröksinslagen som jag hade hoppats skulle vara lite mer framträdande men där jag ändå uppskattar denna blendedwhiskyn.
TOTALPOÄNG: 16,75 / 20,00


Notering: 191201, sample (TTO)
Bildkredit: Clydesdale AB