Med Landskrona och Ven i backspegeln på den nyligen gjorda lilla biltrippen runt Skåne så togs sikte på det sista hotellet och resmålet för den gången och där ett rum fanns inbokat vid Varbergs Kusthotell, ett "Klassiskt kusthotell femtiotvå steg från havet" och som är beläget en liten bit utanför stadens kärna. (Där jag även råkade passera ett stort och nybyggt Systembolag och som givetvis var tvunget att också besökas… Ett litet besök och en avstickare som jag lär få återkomma till då där råkade finnas ganska många spännande öl på hyllan för "Lokalt och småskaligt" producerat. :)?
Vid det gamla men numera upprenoverade kurortshotellet finns det möjlighet till flera olika typer av avslappning och rekreation och andra avkopplande aktiviteter som tex bastusittningar i hotellets egna "kallbadhus" i anslutning till stranden. I närområdet finns också flera uppmärkta stigar och gångstråk för motionslöpning och promenader och där man även kan ta sig via strandvägen in till centrum.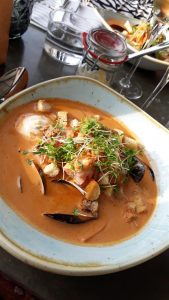 Detta var egentligen inte ett planerat resestopp ifrån början men där platsbristen hos de andra hotellen vi hade planerat att bo på gjorde att vi slutligen ändå fick återkomma till Varberg där vi ganska nyligen varit på en tidigare semester. Men med lite god dryck och mat så är man ju ganska lättövertalad även om det sved lite grann i plånboken när en öl för knappt 24 kronor på Sb kostade över 80 spänn i baren… (Men maten var suveränt god!)
"Humlearomatisk smak med tydlig beska, inslag av aprikosmarmelad, sirapslimpa, ananas och passionsfrukt. Serveras vid 8-10°C till rätter av fläsk- eller lammkött eller som sällskapsdryck" //Sb
Mitt omdöme: The Pine Ridge The Pushy Parrots Tropical Pale Ale 4,8%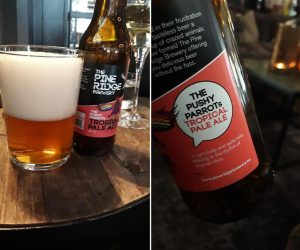 Ett ganska doftrikt öl där aprikos/apelsintoner ligger långt fram och skvallrar om vad man kan förvänta sig av smaken på denna tropiska pale ale. Här finns också en lite torrbeskare underton som jag gillar och där även viss brödighet träder fram tillsammans med litet humlebett och med ganska mycket kolsyra. Mitt "mellan tummen och pekfingret-poäng" i lobbyn för detta öl… 7/10
Råvaror: Kornmalt och humle
OG: – | FG: – | IBU: – | EBC: – (Vad betyder förkortningarna?)
Mer info: –
Notering: 190507, FAN – Se alla smakade ölsorter
SORT: The Pine Ridge The Pushy Parrots
SB ART.NR: 32937 (lokalt & småskaligt)
TYP: Tropical Pale Ale
STYRKA: 4,8%
PRIS: 23,70 kr (330 ml)
LAND: 🙂
PRODUCENT: Pine Ridge Brewery

LEVERANTÖR: Pine Ridge Brewery
God (Verkligen intressant och här händer det trevliga grejer)

Rating: ★★★★★★★☆☆☆ 7/10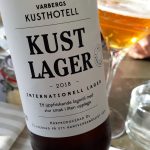 Som en liten parentes och ett annat kul öl värt att nämna och provsmaka när man ändå finns på plats i Varberg och som är bryggt av samma bryggeri är Kusthotellets egna öl Kustlager – En Internationell Lager (2018) – Ett uppfriskande lageröl med stor smak i liten upplaga. För min del landar detta ölet på ungefär samma poäng (7/10p) och är ett lättdrucket lageröl som jag tycker att man kan rekommendera.