Via Master of Malts och deras samarbete med Drinks by the Dram har jag införskaffat mig en sample av en spännande sherrylagrad whisky och 21-årig Glendronach-buteljering med namnet Parliament. Denna whisky är det fjärde steget i destilleriets "core range" vid sidan om de 12, 15 och 18-åriga utgåvorna och som det även i dagsläget finns möjlighet att inhandla via vårt svenska monopol.
"Glendronach var det sista destilleriet i Skottland som värmde sina pannor med öppna koleldar. De glödande kolbäddarna släcktes för gott 2005, och blott tio år tidigare stängdes de gammaldags maltgolven, också i detta fall var Glendronach ett av de sista destillerierna i Skottland. Glendronach 21 YOParliament är alltså något så unikt som en både golvmältad och direkteldad whisky" //Nigab
WHISKY:
Glendronach 21 y.o Parliament (2011) 48%
STYRKA:
48%
ÅR: 2011
ÅLDER: 21 y.o
REGION:
Highlands
TYP: Singlemalt
PRIS: 1.249 kr
DESTILLERI:
Glendronach
SB-ART NR:
85219
PRODUCENT:
Glendronach
LEVERANTÖR:
Nigab
ÖVRIG INFO:
–
Mina omdömen: Glendronach 21 y.o Parliament (2011) 48%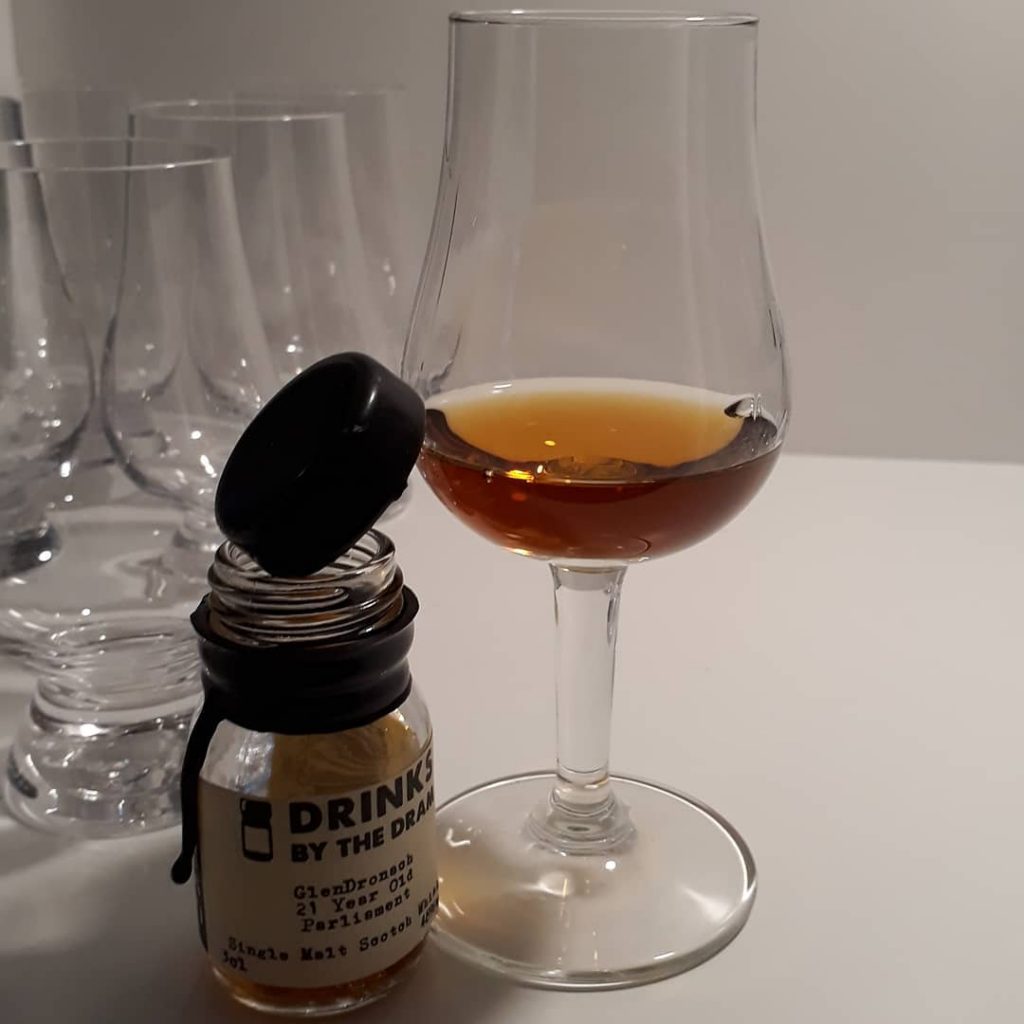 DOFT: Otroligt läckert mahoganyfärgad whisky och där de första doftintrycken går åt mörka russin, dadlar och cederträ(?). Här finns också inslag av röda lingon, några tobaksblad och choklad. Förförisk och god sherrydoft!
SMAK: Smaken följer i doftens fotspår och där även liten läderaktig stramhet har adderats och som även följer med i eftersmaken. Plommon, choklad och en liten cigarrton ger smaklökarna lite att jobba med och där man blir rikligt belönad. Nomnom!!
ESMAK: Plommon, choklad, läder pch kanske även lite chilihetta.
HELHET: En härlig sherrywhisky på många sätt, med massor av nyanser att upptäcka och utforska. Här finns kanske lite mer sherrysträvhet än sherrysötma, är en tanke som far genom mitt huvud och där de mörka bären är tongivande.
Ev.kommentar: Inte fullt så krämig som jag på förhand kanske hade trott men där detta är whiskymagi av hög klass!
TOTALPOÄNG: 18,50 / 20,00


Notering: 190828, Sample, (Drinks by the Dram)
Vad tycker andra whiskybloggare om samma whisky:
| WhiskyTower | TasteNote | WhiskyNotes | SamuelWhisky | Malt and Oak |