Exclusive bottling for Sweden in celebration of 25 years of Blackadder…
Har haft lyckan att i alla fall kunna knipa åt mig en provsample av denna hyllningsutgåvan och strikt begränsade Blackadder Raw Cask-utgåvan (med 212 st flaskor buteljerade) av den indiska whiskyn Amrut ifrån Bangalore. Detta är whisky som gjorts av korn, som odlats vid foten av Himalayas höjder och där det tropiska klimatet hjälper till och skapar en whisky med smak och doft av frukt och choklad med kryddiga toner. Denna har dessutom fått en slutfinish på ett Islay-fat. (från ett för mig okänt destilleri).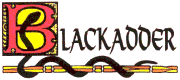 En Raw Cask-buteljering på traditonellt sätt och där man (som flertalet whiskydrickare förmodligen redan vet) på Blackadder inte tror på kylfiltrering eller på tillsättandet av någon sockerkulör. Dessutom använder man sig av en speciell buteljeringsprocess som gör att varje flaska innehåller sin egen del av fatets sediment och naturliga oljor och fetter för att säkerställa att största möjliga antalet naturliga smaker finns i varje enskild flaska.
WHISKY:
Blackadder Raw Cask Amrut
STYRKA:
59,3%
BUTELJERAD: Aug – 2020
ÅLDER: NAS
REGION:
Indien
TYP: Singlemalt
PRIS: 1.549 kr
DESTILLERI:
Amrut
SB-ART NR:
81461
BUTELJERARE:
Blackadder
LEVERANTÖR:
Clydesdale AB
ÖVRIG INFO:
Fattyp: Islay Cask Finish, # of bottles: 212
Mina omdömen: Blackadder Raw Cask Amrut Islay Cask Finish 59.3%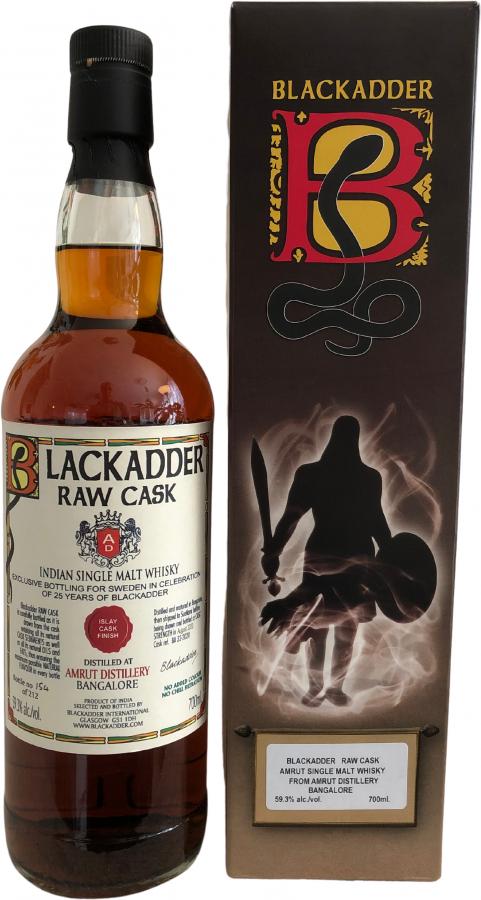 DOFT: En underbart mörk bärnsten och sherryfärgad whisky som det luktar sherrytoner om lång väg! Dessutom på ett så där Amrut-murrigt och lite dovt sätt där man bara kan sitta och njuta av dofterna. Russin och mörka bär. I de bakre partierna drar en förnimmelse av Islay-inspirerad rökighet förbi och man bara längtar tills man får ta den i munnen och smaka på den.
SMAK: Krämigt, plommonsött och (ovattnad) väldigt kraftfull (sherry)smak med inslag av wertherskola. Ojojoj, detta vill man suga länge på! Gillar hur man även anar de svagt rökiga inslagen som kan hittas i svansen på denna.
ESMAK: När de kraftfulla inslagen av russin och karamellkola långsamt klingar av kommer en liten understödjande lätt rökig ton och hjälper till att förlänga och förstärka eftersmaken. Riktigt gott!
HELHET: En ganska alkoholstark whisky med massor av sherryinslag och där nån droppe vatten faktiskt kan övervägas för att få en något rundare och kanske även lite fylligare smak. Nackdelen tycker jag dock är att en något beskare ton framträder. En smaksak givetvis och men där jag personligen nog allra helst föredrar denna helt ovattnad…
Ev. kommentar: Kan bara säga grattis till Er som lyckades lägga vantarna på denna! Njut! :)?
TOTALPOÄNG: 18,25 / 20,00


Notering: 201117, Sample
Fotokredit: (lånad flaskbild) Whiskybase