"The Spirit Of Legend – The VERY smoky, VERY peaty ISLAY Malt Whisky" står det på etiketten till denna Raw Cask-buteljering ifrån välkända Blackadder. I deras serie Raw Cask är det "the OLD school" för whiskyframställning som gäller och där varken kylfiltrering eller tillsättning av sockerkulör hör hemma och där whiskyn buteljerats på hög alkoholstyrka, s.k Cask Strenght, även förkortat CS.
Just denna Raw Cask-versionen innehåller ej någon närmare destilleri-information mer än att den tappad ifrån en Single Oak Hogshead i oktober 2013 och i en upplaga av 266 st flaskor. (Cask ref. BA2013/453)
Då jag själv har ett gott öga till just rökwhisky är det extra kul när man får möjlighet att kunna provsmaka några cl av denna kommande nyheten på SB. Släpps den 2 juni i best.sort. och där det åter är Clydesdale AB som står för importen. (se fler nyinkomna varuprov/samples)
 WHISKY:
 Blackadder Raw Cask Smoking Islay Rum Finish
 STYRKA:
 60,5%
 ÅR: 2013
 ÅLDER: –
 REGION:
 Islay
 TYP: Single Malt
 PRIS: 1.019 kr
 DESTILLERI:
 

?



 SB-ART NR:
 Ej klart (BS)
 PRODUCENT:
 Blackadder
 LEVERANTÖR:
 Clydesdale AB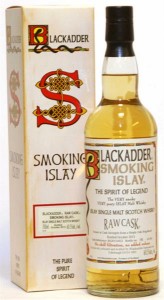 DOFT: Det är en kavalkad av rökiga inslag i doften. Alltifrån utbränt grillkol, plastig fenol, creosot-impregnerad slipers, svavel och med en lätt bris av sälta. Längre ner i doftlagren kommer en lite mera speciell nyans fram och som gissningsvis hör ihop med den lilla extra slutfinishen på ex-romfat.
SMAK: Även smakmässigt är det flygande start på smakresan och där de rökiga inslagen tävlar om att komma först i mål. Lite sötaktig kol blandas med torrare utbränd aska och där whiskyn ovattnat har ett rejält och härligt bett!
ESMAK: I klassisk Raw Cask-maner så har även denna en del medföljande grums kvar på botten av flaskan. (original eller i efterhand fabricerat och återplacerat låter jag vara osagt. Själv gillar jag looken som detta ger… andra gillar det inte) Själva rominslaget och som är mest framträdande mot slutet är min åsikt lite tudelad. Jag gillar det men frågan är om jag inte hade gillat den ännu mer utan…
HELHET: Detta är en rökwhisky som är ganska rå och brutal och som inte lämnar någon oberörd och har en mycket kraftfull smak. Den tål definitivt både en och två droppar vatten och kan speciellt rekommenderas för alla Islay-freaks som är sugna att testa på en liten speciell rom-touch i kombination med kraftig rökwhisky. 😛

Notering: 140522,  FAN (Varuprov, Clydesdale)

[Musiktips:]
Psst! – Glöm inte bort prenumerera på freddeboos-playlist!!
Se hela Spotify-listan med allt TUNGGUNG!