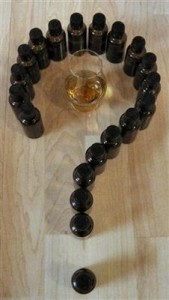 Sådär, då var mitt personliga svar och min gissning inlämnat om vilken whisky som jag tror finns i vårt gemensamma Samples Of  Whisky-blindprov. Ett gemensamt projekt som drivs av två whiskyklubbar emellan AWC och TPWC, samt inbjudna och utvalda gäster.
Rätt svar: Springbank CV 46%
Region: Campbeltown , Styrka: 46%, Pris: 579 kr SB-nr: 86857 (slutsåld)

MITT BETYG: 14,50 av 20,00

Sort: (min gissning) Ledaig Connoisseurs Choice 1990
DOFT (3,75): Fruktig apelsin, smörkola, vanilj och nånting lite metalliskt i bakgrunden.
SMAK (3,75): Kryddig, pepprig och smakrik inledning med toner av ek, grönt äpple och citrus. Liten sötma finns där.
ESMAK (3,50): Medellångt avslut med lite kryddiga undertoner
HELHET (3,50): Trots de ganska starka och kryddiga tonerna så smakar den inte så mycket…
Ev. KOMMENTAR: Svårt som vanligt! 🙂 Mina tankegångar först om doften gick åt typ Mackmyra-hållet eller nån japanare men min gissning hamnar slutligen på en whisky ifrån Isle of Mull istället.

Notering: 120909, Samples Of Whisky #6, (HHM-AWC)

Se hela Spotify-listan med allt TUNGGUNG!