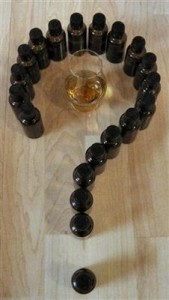 Edit: Ber att få tacka SoW-omgångens åttonde bidragare för denna trevliga och prisvärda whisky! Detta var för mig en ny whisky och som jag ej tidigare har provat. Kul! 🙂
Ja, att detta är svårt och inte helt lätt, det kan ärligt direkt sägas…
Ett Samples Of Whisky-blindprov á 3 cl som dels skall betygsättas och lämnas ett omdöme på och dels försöka gissas vilken sort det kan vara…
Svårt, svårt, svårt men förbaskat kul! 🙂 Denna gången är det HHG ifrån AWC som varit bidragare och som stått för omgångens hemliga whisky.
Sort: (min gissning) Singleton of Dufftown 12
Rätt svar: Glengoyne 14 German Oak Wood
Region: Highland, Styrka: 49%, Pris: ca. 300 kr (utlandet)

MITT BETYG: 15,00 av 20,00

Doft: 3,75 p – Toffée, aprikos och härlig sötma.
Smak: 3,75 p – Tydlig fatkarkatär, med en lite vinaktig nyans. Kola och vanilj bildar stommen i denna whisky tillsammans med lite dovare toner av malt och ytterst svaga röktoner. Smaken är ganska fyllig, rik och lite "tjock och småsimmig".
ESmak: 3,75 p – Medellångt avslut där lite krydda hänger kvar längst.
Helhet: 3,75 p – Denna whisky vinner definitivt på att "få sätta sig lite" i glaset (vilket får mig att fundera lite grann på om den inte kan vara möjligen några år äldre än vad jag från början trodde…) Ett par droppar vatten öppnar upp för ytterligare poäng då smörkola-smaken framträder ytterligare!
Ev. kommentar: Jag drar till med en chansning och gissar på en något bortglömd whisky ifrån Dufftown (speyside) som ägs av Diageo och som ofta används till blended-whiskys…
Jag vill också passa på att i detta inlägg tipsa om att de "sociala apparna"  Twitter, Facebook osv. och som funnits ute i högra menyn nu har flyttats till "footern" längst ner på sidan… (och detta pga. Twitters idiotiska "toppstyre" över sin nya widget och där man inte längre tillåts att ställa in bredden mindre än 220 px på den) 
Slutligen och då dessa hemliga samples-blindprovstest är ett gemensamt whiskyprojekt mellan det båda whiskyklubbarna AWC och TPWC så kan ju också ett besök på dessa båda klubbsidor rekommenderas… 😉
Besök: The Peaty Whisky Club och se även TPWC-medlemmen Markus egna Öl & Whisky-blogg!
Besök: Amnehärad´s Whisky Club´s nya klubbsida! Glöm inte uppdatera favorit/bokmärke samt e-post!
Prenumerera också gärna på vår AWC-playlist! Fyll på och var med och skapa den den bästa  låtlistan någonsin(?) fylld med god musik som passar fint till en dram..
Och du, glöm heller inte att kika in igen på sidan om några dagar för att se om min whisky-gissning ovan höll…
//Fredde
Notering: 130205, SoW-whisky #8, (HGU)


Se hela Spotify-listan med allt TUNGGUNG!