Edit: Ja, detta visade sig vara en liten besvikelse då jag läst Master Of Malts beskrivning "…featuring a proportion of whisky from almost every distillery on Islay, a marked blend with plenty of character" och då den visade sig vara ganska tam och inte alls så rökig som förväntat.
I Amnehärad´s Whisky Clubs månatliga provning av ett hemligt "blindprov" så hade det igår blivit dags för mig att lämna in mitt eget omdöme och poäng för bidraget jag själv valt ut till denna, allas vår gemensamma smakresa á 3 cl… Och för den som är intresserad och som vill veta mera om upplägg osv för denna typen av whiskyprovning rekommenderas ett besök på denna sidan.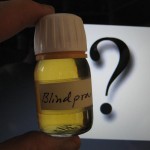 Rätt svar: Black Bottle, 40% (blended)!

SORT: (Bidragare, rätt svar kommer senare)
DOFT: (2,00 p) Metallisk doft med inslag av etanol som blandats med ekfat. Inte helt angenäm och kunde varit bättre.

SMAK: (2,75 p) Söt inledning med svaga ektoner och toffee. Känns väldigt platt/tunn och ganska intetsägande och tyvärr utan några större smaköverraskningar. Smakar dock bättre än doften. 

ESMAK: (2,50 p) Kort till medellång eftersmak och där det positivaste är tonerna av ekfat. 

HELHET: (2,25 p) En klen och ganska intetsägande whisky med svaga ekfatstoner och liten bismak av metall.

Ev. kommentar: Nja, en ganska stor besvikelse då jag själv hade hoppats på ett något bättre smakintryckt och då jag hade sonderat terrängen lite grann innan detta inköp i form av bidragare. 

TOTALPOÄNG: 09,50 

Notering: 130413, AWC-sample #26 (FAN)
Som parentes kan också nämnas Samples Of Whisky-sidan, en sida där AWC gemensamt med The Peaty Whisky Club plus inbjudna "lokala" gäster kör ett liknande "blindprovs-upplägg" där varje deltagare enskilt och privat hemma provsmakar, bedömmer och lämnar in gissning på sort. Riktigt kul men också riktigt svårt! 😉
Se hela Spotify-listan med allt TUNGGUNG!