En inte helt lättgissad japanare visade sig vara rätt svar vid vår 28:e omgång. Nikka from the Barrel är en (blended) whisky som jag tidigare smakat en samples-3:a utav och då fick den 16,25 p av mig. Detta är en riktigt trevlig whisky och kan fr.o.m 1 jun inhandlas på SB för 379 kr (50 cl) och kan helt klart rekommenderas!
Mina smaklökar sattes i helgen återigen på prov i ett svårgissat AWC-blindprov ifrån medlem HHM… Denna gången kändes det som jag inte hade en susning men där den där retsamma och otacksamma känslan av att "detta känner jag igen, men inte kan placera" infann sig. 🙂 En trevlig whisky dock med bra potential.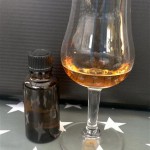 Rätt svar: Nikka from the Barrel 51,4%

SORT: (gissning) Aberlour a'bunadh, batch 45 
DOFT: (4,25 p) God, stor maltig doft inledningsvis som blandats upp med toner av toffee, päron, torkade frukter och choklad. Fint 24-karats guldfärgad whisky med en lite simmig och krämig karaktär. 
SMAK: (4,00 p) Lite bitig i början (och troligtvis en bit över 46%) men där sedan nyanser av sötare sherry kommer in och den mjuknar av något och växer till sig smakmässigt. 
ESMAK: (3,50 p) Eftersmaken är medellång och med härlig kolasötma. Lite spritiga undertoner hinner ikapp på upploppet och drar ner betyget något 
HELHET: (3,75 p) Med något mindre spritigt inslag finns det helt klart potential i denna! Gillar det söta och lite krämiga inslaget i den. 
Ev. kommentar: Nya sherrywhiskyn Teerenpeli Kaski skulle kanske kunna vara ett alternativ om CPE är inne på rätt spår (ja, jag erkänner att jag tjuvkikat lite på föregående gissningar 😉) men jag tycker det ligger nånting annat bekant (Aberlour?) som ligger och lurar i bakgrunden och med tanke på "bidragarens lilla hint" så tror jag detta är en återprovning av en tidigare smakade sort, fast av annan batch… 
Notering: 130630, AWC-sample #28 (HHM)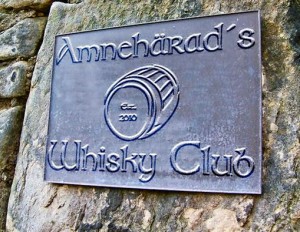 Passar också på att nämna att vi nu går mot en förhoppningsvis varm och solig semester och där vi i whiskyklubben faktiskt kommer att öka på tempot något och smaka en sample i veckan ifrån vårt senaste lilla projekt, "SEMESTER"-boxen "4 weeks of joy" summer 2013 ~Limited Edition~
Detta är en liten låda med innehållandes 4 st samplesflaskor á 3 cl och som kommer smakas och betygsättas, var och en under veckorna 28 till 31.
För den som är nyfiken på vad detta är, upplägg, sorter och så vidare så kan ett bokmärke på Amnehärad´s Whisky Clubs hemsida därför rekommenderas. 😉
Avnjutes gärna till tonerna från:

Se hela Spotify-listan med allt TUNGGUNG!