Under den senare delen av lördagen så stod Bergslagens Destilleri som mål för vår whiskyresa och där vi också skulle få gå på rundtur och vara med på en SMWS-provning med Mats Lihnell (VD) som provningsledare.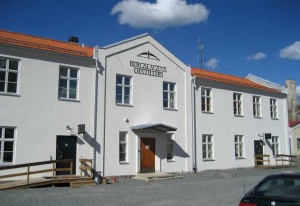 Då vi anlände något tidigare än beräknat så fick vi fördriva tiden lite grann med litet lotteri med fina priser och där jag faktiskt lyckades plocka hem 3 vinster i form av en mössa, en par solglasögon samt ett litet samplesprov.
Bergslagens Destilleri är beläget i en helt nyrenoverad byggnad och där själva tillverkningen av whisky ännu inte riktigt är igång. Själva "Societybaren" är dock helt klar och iordningställd och själva pubdelen är öppen med möjlighet till mat och alkoholhaltiga inköp.
Man är också den drivande svenska parten bakom den globala whiskyklubben The Scotch Malt Whisky Society (SMWS) med över 70 st olika sorter Single Cask Whisky i baren.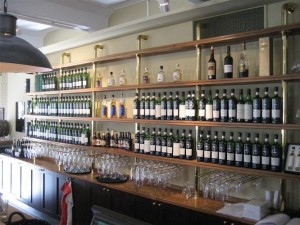 Det var också dit till whiskybaren vi tog oss medans vi väntade på att vår whiskyprovning skulle börja och där det även kom att inhandlas lite flytande godis.
Själva provningen ägde rum en trappa upp i byggnaden och där fanns det fina utrymmen för samkväm och umgänge och där vårt bord redan stod uppdukat. Själva upplägget på whiskyprovningen var av typen blindprov och där vi först fick diskutera lite och komma med gissningar innan Mats sedan presenterade det rätta svaret.
Sorterna smakades en i taget ifrån vänster till höger och där startfältet visade sig vara enligt följande: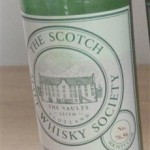 SMWS 76.56
Mortlach 11 y.o 61,1%
(bourbon hogshead refill)
Notering: En mycket god, fruktig, mjuk whisky med inslag av päron, kakao
Poäng: 17,25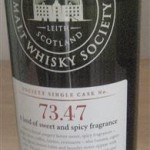 SMWS 73.47
Aultmore 12 y.o 57,8%
(refill ex-bourbon barrel, 221 btl.)
"A land of sweet and spicy fragrance"
Notering: Smak av vanilj, kryddpeppar, litet inslag av etanol/målarfärg.
Poäng: 15,75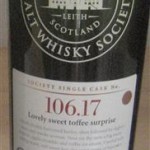 SMWS 106.17
Cardu 27 y.o 53%
(ex-bourbon, 223 btl.)
"Lovely sweet toffee surprise"
Notering: Lite oljig karaktär, smak av äpple och kola
Poäng: 16,50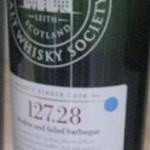 SMWS 127.28
Port Charlotte 2002, 65,1%
(refill ex-bourbon barrel, 217 btl.)
"Modroc and failed barbeque"
Notering: Underbar smak av citrus, tobak, sötma, nyans av grillkorv
Poäng: 18,00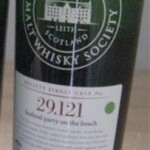 SMWS 29.121
Laphroaig 20 y.o 55,1%
(refill sherry butt, 526 btl.)
"Seafood party on the beach"
Notering: Söt, tobak, sälta, tånginslag, hav, bacon
Poäng: 18,00
Plus två stycken sorter som inhandlades i baren under besöket…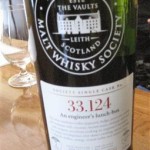 SMWS 33.124
Ardbeg 7 y.o 59,7%
(first fill ex-sherry butt, 602 btl.)
"An engineer's lunch-box"
Notering: Sötaktiga toner med inslag av sherry, äpple och kola härlig rök. Ojojoj, detta är så jäkla bra!!
Poäng: 18,75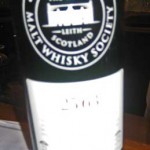 SMWS 25.63
Rosebank 21 y.o 59,8%
(refill hogshead, 257 btl.)
"Poire et poivre"
Notering: Litet kanelaktigt inslag tillsammans med lite krydda och citrus.
Poäng: 16,50
Stort tack till alla medresenärer för en trevlig resa och för en helkul dag med många GODA smakupplevelser! 🙂