Att bara kunna sitta och smutta och njuta av en god öl i det varma och härliga semestervädret är bara helt underbart och man kan undra varför vi inte har semester lite oftare! Tror att det skulle gynna alla i denna ganska uppskruvade och stressiga tillvaron som många av oss befinner sig i och med alla "måsten"…
Som den stora rökfantast jag är när det gäller whisky så skall jag också villigt erkänna att jag inte är speciellt bevandrad och har smakat på så många ölsorter av just denna typen av rökig öl men där jag på senare år har påbörjat min resa in i dess dunkla vrå. Dels för att lära och dels för att jag börjat komma underfund med att jag gillar denna lite extremare typen (och dess otroliga och fantastiska smaker) av öl mer och mer. 😛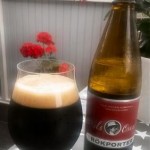 Mitt omdöme:
Denna totalt helsvarta och smaknyanserade rökportern bör enligt beskrivningen avnjutas till smakrika rätter av mörk kött eller som sällskapsdryck och där jag valt att göra enligt det senaste.
Svaga dofter av rök infinner sig direkt man häller upp den i glaset och innan det cirka två fingrar höga och lite bubblande skummet lägger locket på. 
Smaken är knäckig och där kraftigare toner av kaffe och mörk choklad dominerar tillsammans med lite syrliga grapetoner som framträder mer mot avslutet. Rökinslaget är mediumstort och påminner mest om rökta charkuterier och gifter sig fint med de andra smakerna. Den är överraskande mjuk och len karaktären och med en god och trevlig mediumbeska och fyllighet. Förhållandevis lätt, inte speciellt söt och ganska lättdrucken. En kul och lite speciell öl som kan rekommenderas! 🙂
 SORT: Nils Oscar Rökporter
 SB ART.NR: 1473
 TYP: Porter & Stout
 STYRKA: 5,9%
 PRIS: 26,50 kr (500 ml)
 LAND: 
 PRODUCENT: The Nils Oscar Company

 LEVERANTÖR: The Nils Oscar Company

 God (Verkligen intressant och här händer det trevliga grejer)
 

Rating: ★★★★★★★☆☆☆ 7/10

 
Avnjutes gärna till tonerna från:

Se hela Spotify-listan med allt TUNGGUNG!