Tredje whiskyn ut (v.30) ifrån "SEMESTER"-box "4 weeks of joy" summer 2013 ~Limited Edition~ är en sherrylagrad whisky ifrån serien på 10 sorter som Geraldine Landier på La Maison de Whisky valt ut och som skall reflektera de typiska stilarna som finns i de skotska whiskysorterna.
 WHISKY:
 The Ten 08 Profile Heavy Sherry, 45,1% First Fill Sherry Cask
 STYRKA:
 45,1%
 ÅR: 2004
 ÅLDER: –
 REGION:
 Speyside
 TYP: Single malt
 PRIS: 419 kr
 PRODUCENT: 
 La Maison Du Whisky

 LEVERANTÖR:
 Clydesdale

DOFT: (3,25) God syrlig apelsin och lite maltig doft möter näsan direkt man luktar på den… Även visst inslag av ljus sirap. 
SMAK: (3,75) En genomgående ganska söt smakupplevelse där den ljusa sirapen möter malten och ett par gröna vindruvor. 
ESMAK: (3,50) Den mjuka goda sötman avtar något mot slutet och där lite mera strävighet (från russin?) kommer fram. 
HELHET: (3,75) "First-fill sherryfatet" hade jag hoppats skulle haft något större intryck på denna unga whisky som ändå och i förhållande till priset känns helt ok. Ingen sherrybomb men väl en god whisky med ganska söta och goda inslag.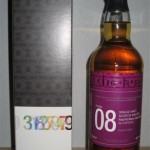 TOTALPOÄNG: 14,25
Notering: 130728, AWC ("SEMESTER"-boxen)

Avnjutes gärna till tonerna från:

Se hela Spotify-listan med allt TUNGGUNG!