freddeboos.se förhandstestar den kommande exklusiva 32-åriga sherrylagring ifrån Laphroaig som släpps i samband med det fortsatta firandet av destilleriets 200-åriga jubileum och vid deras årliga och återkommande LIVE-event som var den 24/9. #LaphroaigLive #FoL Happy 21st birthday! 🙂
Ja, ibland är man född under en lycklig stjärna och att ens försöka sig på att gissa hur stor glädjen var när det dök upp ett oannonserat paket som visade sig innehålla en sample av det kommande och exklusiva släppet med Laphroiag's 32-åriga sherrywhisky plus ett litet whiskyglas, tror jag inte ens är möjligt… 😛 😀 😛 WOW!! 
(Stort tack Linda W – oakriver.se och Edrington Sweden)
Denna sherrylagrade 32-åring kommer i en begränsad utgåva på endast 12 flaskor till Sverige och släpps på Systembolaget den 2 okt för 9.499 kr och är en av de fyra utgåvor (Laphroaig 15 YO – The official 200th Expression, Laphroaig Cairdeas 2015 (distilled using only the original small stills), Laphroaig 21 YO – Created for the Friends of Laphroaigs 21st Birthday också denna Laphroaig 32 YO (100% sherry matured) som har lanseras under året för att fira destilleriets 200-års-jubileum.


 WHISKY:
 Laphroaig 32 y.o
 STYRKA:
 46,6%
 ÅR: 2015
 ÅLDER: 32
 REGION:
 Islay
 TYP: Single Malt
 PRIS: 9.499 kr
 DESTILLERI:
 Laphroaig
 SB-ART NR: 
 40015
 PRODUCENT:
 Jim Beam Brands
 LEVERANTÖR:
 Edrington
 ÖVRIG INFO:
 12 st (av ca. 6000 worldwide) till Sverige (ex-Oloroso Sherry casks)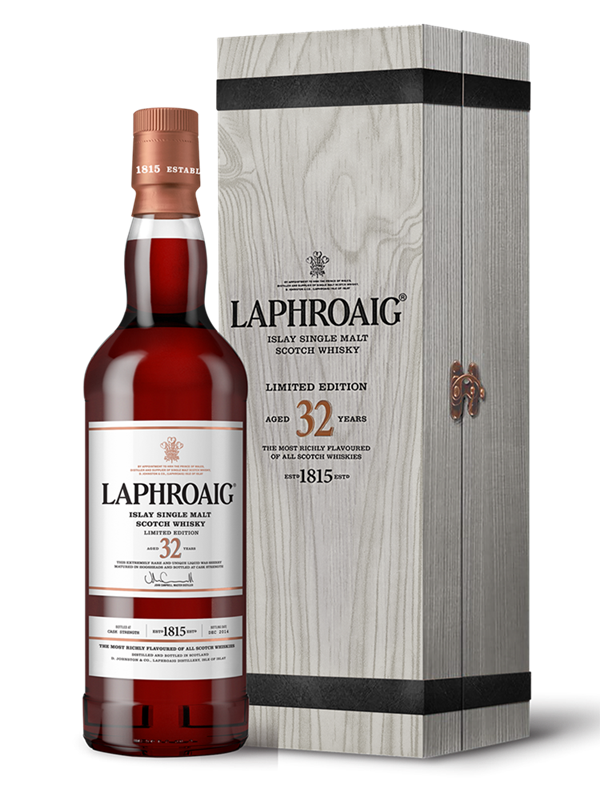 DOFT: 4.25 Kan inte låta bli att direkt sticka fram näsan efter att dessa magnifika droppar har slagits upp i glaset och där söta rökslingor varvas med runda toner av sherry och gräddkola. (Motstår frestelsen att smaka på den direkt och ger den ytterligare ca. 30 orörda minuter för att verkligen få öppna upp) De initiala rökaromerna har nu dragit sig tillbaka något och gett mera utrymme för fruktkakan med röda vinbär, svaga toner av eukalyptus(?) och mogna röda äpplen. En stabil bas av maltiga tongångar i botten och en del ekfatsinslag. (det som slår mig och överraskar lite grann är att den redan nu har hunnit tappa lite av de goda rökiga inslagen i doften)
SMAK: 4.00 I smaken möts man dock åter av en ganska kraftig käftsmäll av underbar rök redan vid den första kontakten och där även en lite mera tilltagande (sherry)bitter nyans har infunnit sig. Syrlig är min första tanke. Kryddigare ton av kanel växer också fram underifrån och ger en värmande känsla. Inte riktigt fullt så sherrytung i smaken som den härligt rödbruna mahogny-färgen ger sken utav…
ESMAK: 3.75 Upplever eftersmaken något strax över medellång och saknar faktiskt här lite mera av rökigheten för att kunna väga upp och ge de något syrliga sherry-tongångarna en motvikt. Mer söt än sträv och med en liten efterföljande bitterhet.
HELHET: 4.00 En god, om än inte helt magisk smakupplevelse á la Laphroaig och där det känns som den goda röken får spela andrafiol och står tillbaka lite grann för att bereda plats åt sherryinslaget i denna whisky. 

Ev. kommentar: Är personligen inte överförtjust i det lite syrliga inslaget och hade hoppats på tyngre och djupare rökkaraktär. För alla inbitna Laphroaig-fansens whiskyhyllor och som investeringsobjekt finns det dock givetvis alltid ett stort intresse för en sådan här utgåva… Priset något lite i överkant för min egen plånbok. 😀
Notering: 150929, Sample, Varuprov