[1:a Advent – AWC´s JULBOX 2015]
Har i helgen öppnat upp årets JULBOX ifrån whiskyklubben och provsmakat, poängsatt och försökt gissa innehållet i samplesflaskan märkt med "1:a Advent". Detta är ett sk. halvt blindprov och där vi vet vilka sorter som ingår men inte vilka flaskor de dyker upp. Spännande!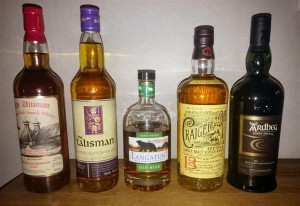 Whiskysorterna som ingår är följande:
# Bunnahabhain 2002 The Ultimate 11 y.o 46%
# The Talisman (blended) 40% (Scotland)
# Langatun Old Bear 40% 2008 3 y.o (Schweiz)
# Craigellachie 13 46% (Speyside)
# Ardbeg Corryvreckan 57,1% (Islay)
Med tanke på färgen på whiskyn som finns i glaset och med härledning av att boxen består av 4 st samples med 5 cl plus 1 st 3:a så kan man ju om man vill få lite hjälp på traven och där jag tror att alternativen som återstår efter en första liten grovsållning är någon av sorterna The Talisman eller Craigellachie. Humm… 🙂
Alla rätta fem samplessvar kommer att presenteras här (och på AWC-sidan) i sin helhet efter jul/nyår…
WHISKY:
The Talisman
STYRKA:
40%
ÅR: –
ÅLDER: –
REGION:
Scotland
TYP: Blended
PRIS: 219 kr
DESTILLERI:
–
SB-ART NR:
484
PRODUCENT:
J & W Hardie
LEVERANTÖR:
Galatea AB
ÖVRIG INFO:

SORT: (min gissning) 1:a advent – Craigellachie (Fel!)
DOFT: (3,25 p) Lite svaga sherryinfluenser(?) med något stickigare och vassare inslag av viss spritighet. Ekfat, målarfärg, mandlar och några halmstrån.
SMAK: (3,25 p) Ganska slätstruken och intetsägande. Bättre doft än smak. Ekfat, svag vanilj och lite tongivande kryddnejlika(?)
ESMAK: (2,75 p) Nja, ingen smaksensation åt något håll och inget man njuter av nån längre stund men dock fullt drickbar. God sötma.
HELHET: (3,00 p) Ganska tunn whisky som känns lite nervattnad men ändå med en liten spritig touch och med för övrigt en ganska slätstruken smak.
Ev. kommentar: Lägg hellre slantarna på nått annat som finns på butikshyllan…
TOTALPOÄNG: 12,25 / 20.00 p

Notering: 151129