[4:e Advent – AWC´s JULBOX 2015]
Det börjar dra ihop sig till slutfinal i AWC's lilla projekt med JULBOX ~2015~. Ett litet minievent i form av ett halvt blindprov (vi vet sorterna men inte i vilka flaskor) och där varje deltagare privat avsmakar, gissar och sätter sitt enskilda betyg på 5 st olika whiskysorter under december månad.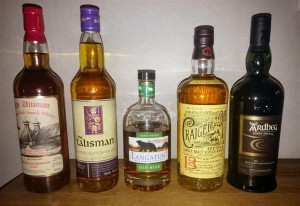 Whiskysorterna som ingår är följande:
# Bunnahabhain 2002 The Ultimate 11 y.o 46%
# The Talisman (blended) 40% (Scotland)
# Langatun Old Bear 40% 2008 3 y.o (Schweiz)
# Craigellachie 13 46% (Speyside)
# Ardbeg Corryvreckan 57,1% (Islay)
Alla rätta fem samplessvar kommer att presenteras här (och på AWC-sidan) i sin helhet efter jul/nyår…
 WHISKY:
 Ardbeg Corryvreckan
 STYRKA:
 57,1%
 ÅR: –
 ÅLDER: –
 REGION:
 Islay
 TYP: Single Malt
 PRIS: 689 kr (825 kr)
 DESTILLERI:
 Ardbeg
 SB-ART NR: 
 10427
 PRODUCENT:
 Ardbeg
 LEVERANTÖR:
 Moët Hennessy Sweden
 ÖVRIG INFO:
 X2
SORT: (min gissning) 4:e advent – Ardbeg Corryvreckan (rätt!)
DOFT: 4.25 Mycket god och ganska distinkt doft med många (maritima) inslag. Rökt lax, tjärad eka,
blött hamparrep, utbränd brasa, skorstenssot, tång, lakrits, sälta, nylagd asfalt, gummimatta,
pcb, inlagda körsbär, svavel och lite målarfärg. Ganska alkoholstark.
SMAK: 4.75 Allt ovanstående dubblat med tre. Sotrökiga nyanser breder ut sig i hela munnen, slår
en frivolt inne vid gomseglet innan den kamikaze-dyker rakt mot avgrundsdjupet i halsen. Den
kvarlämnade sötman, ett par, tre körsbär, några ekplankor och ett grönt äpple biter sig
fortfarande kvar vid stupskanten…
ESMAK: 4.25 Går åt det lite torrare hållet (även om en del av sötman fortfarande är kvar) och har
nu även en något beskare nyans vid sin sida tillsammans med rökta charkuterier.
HELHET: 4.50 Ostronskal på en bädd av tång och där sedan tankarna går åt nyslickad
skorstensinsida, kryddad med BBQ-sås och havssalt. Magisk!
Ev. kommentar: Riktigt skoj och intressant att åter få känna på och betygsätta denna whisky igen, 136 kr dyrare och drygt 4 år sen sist… 😉 😀
TOTALPOÄNG: 17,75 / 20.00 p

Notering: 151222, Amnehärad´s Whisky Club – JULBOX 2015, (HHG)
---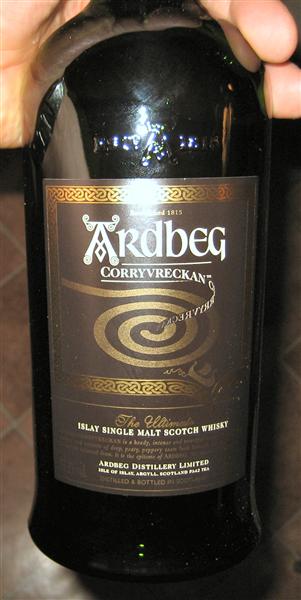 DOFT: Tjära, rök och med inslag av kola och vanilj. Nyanser av brända bildäck och asfalt.
SMAK: Inledningsvis söt, eldig och ganska stark och med ett bra drag. Rök, tjära och salmiak som blandas med lite bränt socker oc lite torr strävighet kan anas.
ESMAK: Ganska kort eftersmak som känns lite fet och rökig
HELHET: En helt fantastisk och mycket trevlig rökwhisky! Vatten tillför inget, förutom att den tunnas ut lite mer… (och vem vill det?)
TOTALPOÄNG: 18,25 / 20.00 p

Notering: 110715, Amnehärad´s Whisky Club – whiskyafton #9, (HGU)