Så har det blivit dags att testa en nyhet och den begränsade svenska versionen av en Double D Hopped DIPA med namnet I Like To Moob It Moob IT och som är uppkommen via ett samarbete mellan de båda ölbryggerierna Northern Monk och Wylam.
__
We joined forces with our Northern Brethren at Wylam Brewery to produce this moob-inducing answer to recent click bait articles about IPAs giving you man boobs. Now, we don't make science, we make beer. But here is what we know: there is no evidence that IPAs are giving you man boobs. Maybe it's true but maybe it's the end-of-the-night kebab, maybe we should go to the gym more often, maybe it's the peas, soya, dried fruit, chickpeas, beans (all of which have higher phytoestrogen levels than hops) maybe the whole thing was created by brewing behemoths making mass produced cheap beer with very few hops and losing share to craft brewers.
One thing we do know, we like hops and we like to moob it.
__
Mitt omdöme: Northern Monk/Wylam (Swedish Edition) I Like To Moob It Moob IT 8,8%
Härligt orangefärgad och ogenomskinlig till utseendet där man på långt håll känner dofterna av söta apelsiner, citrusmarmelad, aprikos, mango och grapefrukt och där det vita, småbubbliga skummet är ganska snabbt återgående.
Munkänslan är inledningsvis lite fruktsöt och har stora inslag av apelsin, mango och citrus. Man kan ana en ett lite lättare alkoholstick men inte så att jag tycker det stör och där kolsyrenivån ligger strax under medel. Mot slutet framträder lite mera grapefrukts/humle-beska men utan något större bett. (hade nog hoppats på betydligt mer här!!) Överlag en mycket fruktig öl med goda dofter och smaker men som gärna kunde ha fått bre på och haft ett lite större humlebett i avslutet. 7/10 p
Sen kan man ju alltid undra om det är den svenska Systembolags-censuren (och löjlet!!) som åter har slagit till mot denna "swedish edition" och där man påtvingat gubbarna på etiketten både shorts och linne:) (。 ㅅ 。)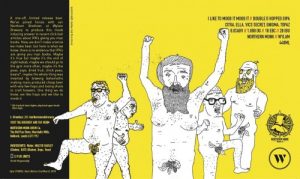 Råvaror: Korn- och vetemalt samt humle (Citra, Ella, Vic Secret, Enigma and Topaz)

OG: 1.088 | FG: – | IBU: 20 | EBC: 10 (Vad betyder förkortningarna?)
Mer info: –
Notering: 180322, FAN – Se alla smakade ölsorter
SORT: Northern Monk/Wylam (Swedish Ed.) I Like To Moob It Moob IT
SB ART.NR: 11241
TYP: Imperial/Dubbel IPA
STYRKA: 8,8%
PRIS: 49,90 kr (440 ml)
LAND:
PRODUCENT: Northern Monk Brew Co

LEVERANTÖR: Art of Beverage AB

God (Verkligen intressant och här händer det trevliga grejer)

Rating: ★★★★★★★☆☆☆ 7/10