Mina smaklökar sattes i helgen återigen på prov i ett svårgissat AWC-blindprov ifrån medlem HHM… Denna gången kändes det som jag inte hade en susning men där den där retsamma och otacksamma känslan av att "detta känner jag igen, men inte kan placera" infann sig. 🙂 En trevlig whisky dock med bra potential.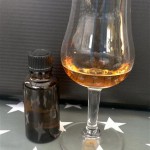 Rätt svar: Nikka from the Barrel 51,4%

SORT: (gissning) Aberlour a'bunadh, batch 45 
DOFT: (4,25 p) God, stor maltig doft inledningsvis som blandats upp med toner av toffee, päron, torkade frukter och choklad. Fint 24-karats guldfärgad whisky med en lite simmig och krämig karaktär. 
SMAK: (4,00 p) Lite bitig i början (och troligtvis en bit över 46%) men där sedan nyanser av sötare sherry kommer in och den mjuknar av något och växer till sig smakmässigt. 
ESMAK: (3,50 p) Eftersmaken är medellång och med härlig kolasötma. Lite spritiga undertoner hinner ikapp på upploppet och drar ner betyget något 
HELHET: (3,75 p) Med något mindre spritigt inslag finns det helt klart potential i denna! Gillar det söta och lite krämiga inslaget i den. 
Ev. kommentar: Nya sherrywhiskyn Teerenpeli Kaski skulle kanske kunna vara ett alternativ om CPE är inne på rätt spår (ja, jag erkänner att jag tjuvkikat lite på föregående gissningar 😉) men jag tycker det ligger nånting annat bekant (Aberlour?) som ligger och lurar i bakgrunden och med tanke på "bidragarens lilla hint" så tror jag detta är en återprovning av en tidigare smakade sort, fast av annan batch… 
Notering: 130630, AWC-sample #28 (HHM)
Kvällens droppar av livets vatten kommer ifrån fjärran östern, närmare bestämt Japan och är en blandning av grain och maltwhisky och heter Nikka. Lagringen sker på first fill bourboncasks och själva whiskyn kommer ifrån de båda destillerierna Miagikyo och Yoichi.
Tidigare smakad:
Nikka From The Barrel (51,4%)
Region: Japan, Styrka: 51,4%, Pris: 379 kr/500 ml SB-nr: 10147

MITT TOTAL-betyg: 16,25 av 20,00



DOFT: (4,00) Mycket god doft där inslagen av apelsin, vanilj, och marsipan (som är påtaglig) är tongivande. Rökstrimmor i bakgrunden…

SMAK: (4,25) Oljig och ganska feta nyanser till en början, som sedan övergår mot lite sötare, honung/marsipan/apelsin-toner. Detta är riktigt bra och man vill gärna smaka på den igen… Lite pepprig mot slutet.

E-SMAK: (4,00) Den röda tråden, i form av marsipan och honung hänger med hela vägen mot slutet där en viss bitterhet växt fram.

HELHET: (4,00) Helt klart den bästa av de Nikka jag hittills har smakat, då denna är lite oljigare och fetare i karaktären. En mjuk, rund och väldigt välgjord whisky som helt klart kan rekommenderas, trots det ganska höga liter-priset! 🙂

Notering: 120523, Privat smakad sample, (FAN)