Edit: En ganska svårgissad omgång då det denna gången handlade om en Taiwanesisk whisky…
Så är då hösten på gång igen och där en ny omgång i det lilla whiskyprojektet Samples Of Whisky åter har haft ett blindprov att betygsätta och försöka sätta en gissning på. Denna gången är det jag själv som varit bidragare av whiskyflaskan och där det rätta svaret presenteras under nästkommande vecka.
Mitt eget betyg för denna blev enligt följande…
 WHISKY:
 Kavalan Consertmaster Port Cask
 STYRKA:
 40%
 ÅR: 2013
 ÅLDER: ?
 REGION:
 Taiwan
 TYP: Single Malt
 PRIS: 799 kr
 PRODUCENT:
 King Car Whisky Distillery
 LEVERANTÖR:
 Bevco AB

SORT: (Bidragare) Kavalan Consertmaster Port Cask.
DOFT: (3,00 p) Maltiga toner, litet citrusinslag och söta frukter.
SMAK: (2,75 p) Grapefrukt, ekfat, viss fruktsötma.
ESMAK: (3,25 p) Kort och aningens bitig i avslutet. Sötman går mot lite grapefruktsbeska toner.
HELHET: (3,25 p) Helt ok men övertygar inte fullt ut ännu. Känns lite ung.
Ev. kommentar: Känns något överskattad och upphaussad…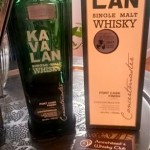 TOTALPOÄNG: 12,25
Notering: 130919, Samples Of Whisky #10, (FAN)

[Musiktips:]

Se hela Spotify-listan med allt TUNGGUNG!