I den södra mittdelen av landet där jag bor lyser fortfarande vintern med sin frånvaro, trots att vi nyss har bytt blad till januari. Själv gillar jag snö (i måttliga mängder) och dagar med några grader under minusstrecket så kvällens öl får därför bli denna HALE TO WINTER, AND TO THE DARKNESS IT BRINGS –"en strong ale som inte bara är mörk utan dessutom innehåller polarishumle, en humlesort som ger ölet en frisk mentolarom".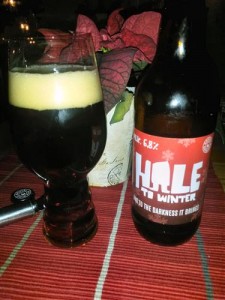 Mitt omdöme:
Det är ett ljust, beigefärgat medelhögt skum som doftar svagt av rostad malt, mörk sirap och karamell och som lägger locket på över denna mörka och mahognyfärgade ale på 6,8% och som har en viss rödlätt ton i sig.
Munkänslan är ganska mjuk och rund och med lite svag sötma i och där man anar toner av rostad malt direkt tillsammans med lite russin och kryddor. Drar mot ett ganska klent bitterbeskt avslut med inslag av hasselnöt och mörk sirap. Inte så värst mycket mentolarom att tala om…
Överlag en ganska mjuk och slätstruken ale som inte bjuder på några direkta minnesmärken eller överraskningar men som inte heller är direkt otäck. 
 SORT: Brutal Brewing Hale to Winter 
 SB ART.NR: 11302
 TYP: Ale
 STYRKA: 6,8%
 PRIS: 20,50 kr
 LAND: 
 PRODUCENT: Spendrups Bryggeri

 LEVERANTÖR: Spendrups Bryggeri 
 Ganska god (Inga fel men står inte ut så mycket. Den är nästan "där"!)

 

Rating: ★★★★★★☆☆☆☆ 6/10

 
[Musiktips:]

Se hela Spotify-listan med allt TUNGGUNG!