Fortsatte på den redan inslagna vägen under gårdagskvällen med att även smaka av ett blindprov som jag fått ifrån Markus i TPWC och som även driver en öl- och whiskyblogg med samma namn. (Öl & Whisky)
 
 WHISKY:
 Isle of Islay (1st fill sherry butt, Cask #12)
 STYRKA:
 54%
 ÅR: 1990
 ÅLDER: 21
 REGION:
 Islay
 TYP: Single Malt
 PRIS: ? kr 
 DESTILLERI:
 ?
 SB-ART NR: 
 ?
 BUTELJERARE:
 First Cask
 LEVERANTÖR:
 ?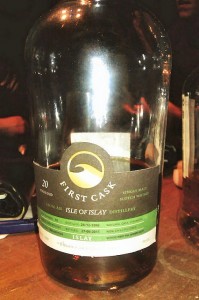 SORT: (min gissning) Glenfarclas 25 Rätt svar var: Isle of Islay 21 First Cask
DOFT: (4,25 p) Goda och påtagliga sherrynyanser (med ett litet vinöst inslag?) hittar fram och med en doft av katrinplommon, ekfat och en fruktig jordighet.
SMAK: (4,00 p) Mycket njutbar orökig whisky med viss fruktighet av katrinplommon, mörka bär och svag vanilj. Lite vanilj anas i bakgrunden.
ESMAK: (4,00 p) Svaga, lite småbeska chokladtoner kommer fram mot slutet tillsammans med vaniljen.
HELHET: (4,25 p) Komplex och sherrynyanserad whisky med ekfatstoner. Efter en stund i glaset kommer mera (ganska mycket mera!) fatbeska fram. 
Ev. kommentar: Smarrig whisky men oj vad svårt det blev när man skulle klämma fram en gissning! Var i ett tidigt skede nästan helt säker på att detta var en efterlängtad återprovning av Yamazaki 18. (som jag velat göra pga. att denna provades i ett tidigt skede vid en provning med AWC och då vi ännu inte riktigt hunnit sätta vår betygskala). Det som dock förbryllar lite grann och som faktiskt får mig att ändra min gissning i absoluta sekunden är den rikliga fatbeskan som tillkommit då glaset få stå orört en stund. Ja, för inte kan väl detta vara så enkelt att det är vad som står gömt på den kvarlämnade etiketten – Bowmore från Svenska Eldvatten:) 😛

TOTALPOÄNG: 16,50 p 

Notering: 140210, Sample, Markus (TPWC)

[Musiktips:]
http://open.spotify.com/track/5DwIEIEJy5uDDcfWRiopNC http://open.spotify.com/track/5DwIEIEJy5uDDcfWRiopNC
Se hela Spotify-listan med allt TUNGGUNG!