[God Jul (sample 5) – AWC´s JULBOX 2015]
Så har det blivit dags för sista samplen ut ifrån AWC's JULBOX ~2015~. Ett litet minievent i form av ett halvt blindprov (vi vet sorterna men inte i vilka flaskor) och där varje deltagare privat avsmakar, gissar och sätter sitt enskilda betyg på 5 st olika whiskysorter under december månad.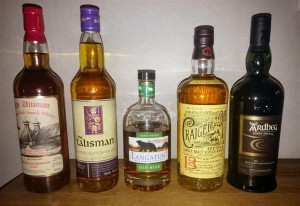 Whiskysorterna som ingår är följande:
# Bunnahabhain 2002 The Ultimate 11 y.o 46%
# The Talisman (blended) 40% (Scotland)
# Langatun Old Bear 40% 2008 3 y.o (Schweiz)
# Craigellachie 13 46% (Speyside)
# Ardbeg Corryvreckan 57,1% (Islay)
Alla rätta fem samplessvar kommer att presenteras här (och på AWC-sidan) i sin helhet efter jul/nyår…
 WHISKY:
 Langatun Old Bear 40% 2008 3 y.o
 STYRKA:
 40%
 ÅR: ?
 ÅLDER: ?
 REGION:
 Schweiz
 TYP: ?
 PRIS: ? kr
 DESTILLERI:
 –
 SB-ART NR: 
 –
 PRODUCENT:
 –
 LEVERANTÖR:
 –
 ÖVRIG INFO: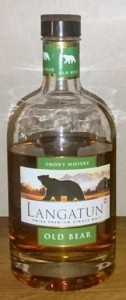 SORT: (min gissning) Langatun Old Bear (rätt!)
DOFT: 3.50 Svag aprikos-sötaktig doft med inslag av nyklippt gräs, torkat hö och lemonskal. Lite aceton i botten.
SMAK: 3.75 Mycket len, rund smak med liten vaniljtouch och ljus fruktighet. Ganska tam med ändå med stor fyllighet. Svag pepparnyans kan anas. Riktigt trevlig.
ESMAK: 3.50 God och mjukt avrundade avslut som förlängs med lite tilltagande kryddighet. Den här vill man smaka på i CS-styrka också för då är den gissningsvis ännu bättre!
HELHET: 3.75 Med tid i glaset växte det även fram en lättare rökighet som är riktigt trevlig och som hjälpte till att höja denna sametslena whisky lite till. Samma whisky i Cask Strength-styrka vore att föredra.
TOTALPOÄNG: 14,50 / 20.00 p

Notering: 151226, AWC Julbox ~2015~