"A fusion of American-style pale ale and South-East Asian flavours of mango, lime, Vietnamese mint and chili. This a beer of harmony, not of conflict."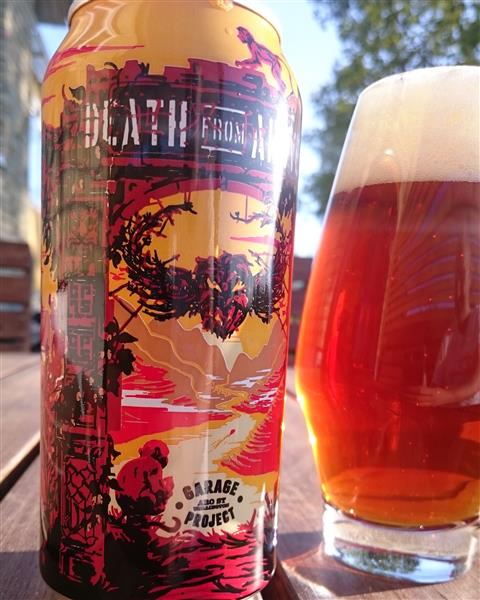 Mitt omdöme:
Ett ganska gyllenmörkt öl som doftar gott och svagt syrligt av lime, citrus och mango. Inbjudande! 😀
Smaken är inte alls som förväntat utan mycket rundare och mjukare, ja nästan lite "gräddig". Tropisk fruktighet där inte heller är beskan jättestor utan känns mycket väl avvägd och där man kan ana en hel del citron i smaken, utan att för den delen bli alltför bitig och där mangotonerna rundar upp och mjukar av. 
Detta är min första öl ifrån det Nya Zeeländska bryggeriet som är beläget i en gammal bilverkstad och ett öl jag gärna återkommer till om jag känner för att dra iväg en 50-lapp per styck. 
Maltsorter: –
Humlesorter: –
Övrig info: –
OG: – | FG: – | IBU: – | EBC: –
Notering: 160512, FAN – Se alla smakade ölsorter 
 SORT: Garage Project Death from Above
 SB ART.NR: 11207
 TYP: American IPA
 STYRKA: 7,5%
 PRIS: 49,90 kr (440 ml)
 LAND: 
 PRODUCENT: Garage Project
 LEVERANTÖR: Cask Sweden AB
 God (Verkligen intressant och här händer det trevliga grejer)
 

Rating: ★★★★★★★☆☆☆ 7/10