SMWS Sample Box No.1.
Julen är som bekant sedan länge redan passerad och där samplesflaskor (25 st totalt) i SMWS-boxen/Adventskalendern ifrån SMWS Sweden fortfarande står och väntar på att avnjutas. Ja, jag vet – får la' öka lite! 🙂 Aftonens nr på flaskan är 16 och där alla dessa 2-cl-samples i vanlig ordning provas blint och där dechiffreringen sedan sker i efterhand. Nu åker vi! 🙂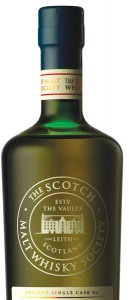 SMWS-SAMPLE #16:
Se tidigare: #1, #2, #3, #4, #5, #6, #7, #8, #9, #10, #11, #12, #13, #14, #15
G11.1 Tongue tingling intensity!
Ålder: 14 år
Alkoholhalt: 57,6 %
Fat: Re-charred hogshead
"Appetising cherry Bakewell tarts and foamy banana sweets. Then plum skins, cornflakes
and buttery pastry with a pleasing solventy edge (pear drops). Exotic fruits (papaya and
guava), rum-like spices and comforting coconut. A savoury finish has light notes of
sautéed mushrooms; balanced by the sweet juiciness of oak."
WHISKY:
SMWS G11.1 Tongue tingling intensity!
STYRKA:
57,6%
ÅR: –
ÅLDER: 14 y.o
REGION:
Japan
TYP: Single Malt
PRIS: ? kr
DESTILLERI:
Nikka
SB-ART NR:
–
BUTELJERARE:
Nikka
LEVERANTÖR:
SMWS
ÖVRIG INFO:
Sample #16, Re-charred hogshead
DOFT: 3,75 Grötig fruktighet möter rund marsipan, banan och zest.
SMAK: 3,75 Frisk smak av marsipan, citron, och sockerkaka. Lätt sötma och liten beska.
ESMAK: 3,75 Ganska rund i tonen och där en fruktig röd tråd följer hela den ganska långa vägen fram. Ett lite mera sötbeskt parti passeras på vägen där även en lite mera spritighet ger sig till känna.
HELHET: 3,75 En överlag trevlig bekantskap med god maltighet och med mjukare fruktinslag och goda maltnyanser.
TOTALPOÄNG: 15,00 / 20.00 p

Notering: 160510 – SMWS Sample Box, Blindprov (FAN)