Islay KD 001 heter den första whiskyn ut ifrån den hyllade The Single Cask Exclusives-serien med samma namn som The Creative Whisky Company står bakom och där man buteljerat ett singelfat med Laphroaig-whisky för Svenska Eldvatten.
 WHISKY:
 Laphroaig Creative Whisky Exclusives Islay
 STYRKA:
 50%
 ÅR: 2016
 ÅLDER: NAS
 REGION:
 Islay
 TYP: Singlemalt
 PRIS: 699 kr
 DESTILLERI:
 Laphroaig
 SB-ART NR: 
 85799 *slutsåld*
 PRODUCENT:
 The Creative Whisky Co.
 LEVERANTÖR:
 Svenska Eldvatten
 ÖVRIG INFO:
 126 btl, Sherry Finish. no added colour, no chill-filtering
DOFT: 4,25 Lite plastig fenol med inslag av impregnerad telefonstolpe och torkade russin, dadlar och dov maltighet. Man kan ana en lätt dimmig Islay-rökighet i botten av denna sherry-kombo som luktar riktigt gott!
SMAK: 4,00 Lite brännande, svagt pepprig inledning där sherrysötman har övertaget innan de mörkare och rökiga torvinslagen orkar bryta igenom. Ganska snabbt tar dock sötman åter över befälet igen över smakerna och styr kosan direkt mot slutstationen. Översötad sherrysmak med maskerad rökighet i bakgrunden.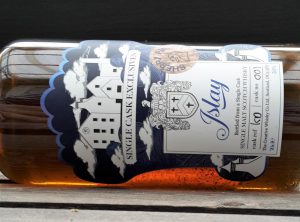 ESMAK: 3,75 En hel del goda röknyanser under hela resan men där rökinslagen känns lite tillbakahållna av den höga (sherry)sötman och där avslutet känns lite kort och avhugget. Det finns en hel del god rökighet i kulisserna men som inte riktigt orkar eller vågar ta sig ton och träda fram…
HELHET: 4.00 Känns som slutfinishen på sherryfat har gjort ett ganska stort avtryck på denna whisky och verkligen satt sin prägel och där sherrysötman är framträdande och dominerande. Plus i kanten för det medföljande "fatgrumset" i flaskan. (det måhända vara ditlagt i efterhand(?) men ändå ger en ändå en skön känsla av naturlighet och äkta vara)
Ev. kommentar: Tycker personligen att det är en god och smakrik whisky men där förhoppningarna grusas lite grann av den nedtonade och tillbakahållna rökigheten som jag hade hoppats lite mera på. Sötman ligger lite grann i överkant för min del men tycker ändå att den är prisvärd och med sitt otroligt inbjudande utseende ett mycket trevligt och spännande tillskott på whiskyhyllan! 🙂
TOTALPOÄNG: 16,00 av 20.00 p

Notering: 170311, (FAN)