Dags att presentera ett favoritöl och en ölsort som ofta finns hemma på hyllan utifall att man skulle råka bli sugen på bittersöt tallbarrs-öl med lite lagom bett (88 IBU) i… ??
"A mix of citrus and pine that will remind you of the time you went on a vision quest and woke up in a pine-grove full of grapefruit trees." //Ska Brewing
Mitt omdöme: SKA Modus Hoperandi IPA 6,8%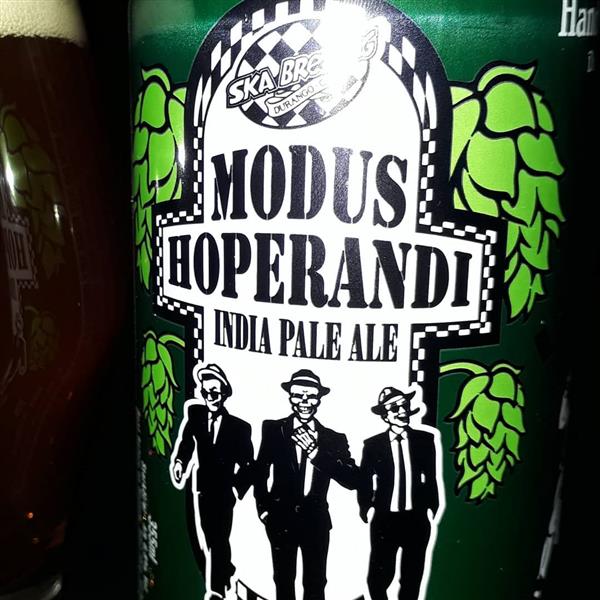 Härligt fräscha dofter av ananas, apelsin, grapefrukt och citrus och som drar lite åt orange i färgskalan.
En lättdrucken och citrussyrlig öl som har ett gott humlebett och som bjuder på en del trevliga tallbarrsinslag och med lite skön bitterhet i avslutet.
Här finns även en hel del god grapefruktsbeska att bekanta sig med, utan att smakerna blir alltför extrema eller utstående.
En favorit som gillas!! 8/10p ?
Notering: 180206

Malt: –
Humle: –
OG: – | FG: – | IBU: 88 | EBC: – (Vad betyder förkortningarna?)
Mer info:
Notering: 180205, FAN – Se alla smakade ölsorter
SORT: SKA Modus Hoperandi IPA
SB ART.NR: 1539
TYP: Indian Pale Ale
STYRKA: 6,8%
PRIS: 25,90 kr (335 ml)
LAND:
PRODUCENT: Ska Brewing

LEVERANTÖR: Great Brands AB

Mycket God! (Denna bör upplevas och drickas av gemene öl-fantast)

Rating: ★★★★★★★★☆☆ 8/10