Låt mig för SMWS's räkning få presentera… SMWS 53.268 7 y.o "Honey in a peat kiln" 61,1% 👈😍👍
Återigen har den världsomspännande whiskyklubben The Scotch Malt Whisky Society enbart för Sverige låtit ta fram ett exklusivt medlemserbjudande och där man låter denna 7-åriga "Honey in a peat kiln" ingå i ett specialpaket för nya medlemmar. Detta är en limiterad caskstrength-whisky ifrån Islay på hela 61,1% och som har slutlagrats ett år på ett Second Fill Heavy Toasted Medium Char-fat och tidigare ett Ex-Bourbon Hogshead-fat i 6 år. Priset för ett SMWS-medlemsskap (utan välkomstpaket) plus en flaska 53.168 = £99.00
"We took an expected expedition into maritime scenes as rock pools rolled over seaweed and shellfish, whilst from a distant hill came wafts of burning gorse. Layers of sweetness cascaded over the seaside fantasy, conveyed by fresh malt drizzled with heather honey and a squeeze of baked orange. The smell of malt drew us into a peat-fired kiln with medicinal overtones that wrapped us in a shroud of comfort. The palate took an unexpectedly sweet turn with a sugary bombardment of maple syrup, honey and treacle. Through the sticky glaze emerged complex layers of smoked salmon dressed with pink peppercorns and roast chicken adorned with rosemary, sage and thyme, joined by crispy baked stuffing. After spending 6 years in a refill ex-bourbon hogshead this was transferred to a secon-fill hogshead for the remainder of its maturation."

The Scotch Malt Whisky Society-medlemsskapet ger följande:
Medlems-access till cirka 25 nya whisky och andra spritutgåvor ifrån SMWS månatliga Outturn.
Tillgång till ett omfattande program för provsmakningshändelser med ihop med andra whiskyälskare, både utomlands världen över men också via de lokala SMWS Partner Barer som finns runt om i Sverige. (Ardbeg Embassy, The Bishop's Arms i Malmö, The Bishop's Arms i Göteborg och Bryggargatan Restaurang & Bistro)
Rabatterade drampriser på alla svenska SMWS-partnerbarer och resten av världen
Gratis prenumeration på Unfiltered, SMWS prisbelönta medlemstidning
Besparingar på porto och förpackning, med leverans direkt till din svenska adress inklusive alla svenska avgifter och skatter.
Inträde för dig och upp till tre gäster till Society's Members' Rooms i Edinburgh och London
För närmare information om The Scotch Malt Whisky Society, besök gärna www.smws.com
WHISKY:
SMWS 53.268 7 y.o "Honey in a peat kiln" 61,1%
STYRKA:
61,,1%
DEST. ÅR: 2010 (12 okt)
ÅLDER: 7 y.o
REGION:
Islay
TYP: Singlemalt
PRIS: £99 (inkl. SMWS-medlemsskap)
DESTILLERI:
Caol Ila
SB-ART NR:
–
PRODUCENT:
SMWS
LEVERANTÖR:
SMWS
ÖVRIG INFO:
Outturn: 287, Cask Type: Second Fill Heavy Toasted Medium Char Ex-Bourbon Hogshead
Mina omdömen/kommentarer: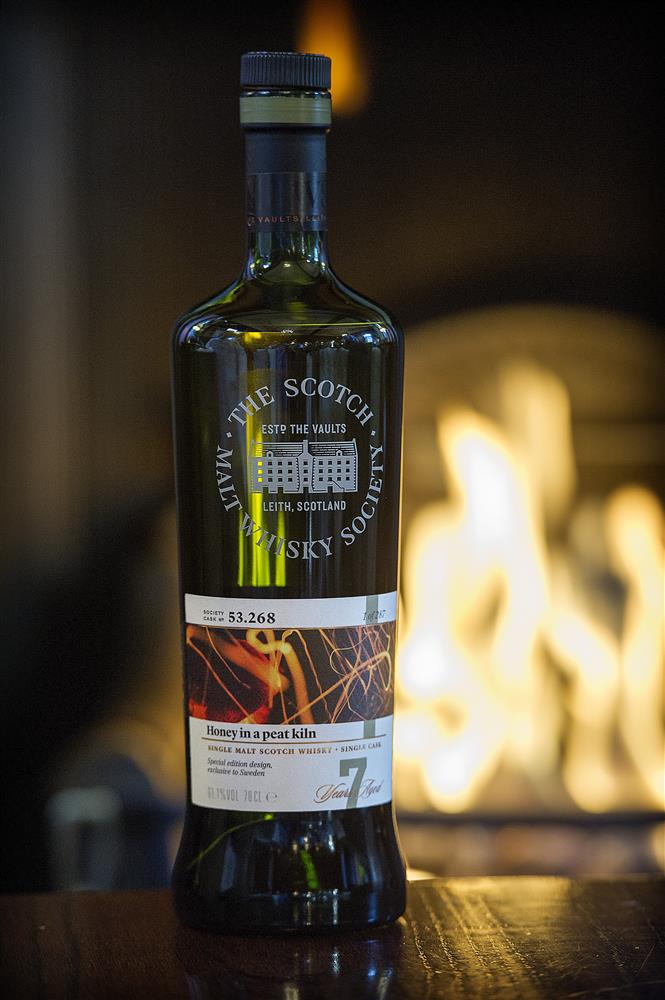 DOFT: (4,25 p) Sötrökig torvighet inleder. I botten finns en bred maritim nyans i form av rökt lax, tång, ostronskal och en lite medicinal ton. Får även en liten känsla av lacknaftabaserad målarfärg här. Riktigt mysig!
SMAK: (4,25 p) Smaken är oväntat nästa lite spritsig till en början. Honung och aprikos stöter till och där en dov maltighet agerar barlast. Medelstark rökighet med ett litet grillkorvsinslag, pvc-plast och en lättare torrhet.
ESMAK: (4,00 p) Inte överväldigande lång men ändå så pass så att de rökiga fenolerna drar det längsta strået och går i mål strax efter att den goda torvhonungssirapstonen gått och lagt sig. Ännu mer sirap kommer fram med några droppar vatten, både i doft och smak. Nästan så jag upplever den lite mera 'brännhet' med vatten och där även lite skarpare beska visar sig.
HELHET: (4,25 p) En medelrökig islaywhisky där maltiga, mjuka sirapstoner blandas med honung och lite mera kustnära inslag ifrån havet, kanel, cigarrök(?) och lädersoffa. En intressant whisky för alla Islay-älskare och Caol Ila-fans!!
TOTALPOÄNG: 16,75 av 20.00 p

Notering: 181018, sample, SMWS
Phototcredit: SMWS