Den världsomspännande whiskyklubben Scotch Malt Whisky Society (SMWS) öppnade i Augusti sin första svenska "partner bar" hos The Ardbeg Embassy i Stockholm och där ett urval av SMWS-flaskor nu finns att smaka och där man håller månatliga SMWS-provningar för whiskyentusiaster.
Enbart för Sverige och för landets alla whiskyfans har man också tagit fram ett exklusivt medlemserbjudande där en 10-årig 'Burning scarecrows by the sea' kan köpas av medlemmar. En limiterad peated caskstrength-whisky ifrån Islay på 62% som lagrats på hogshead ex-bourbon-fat och som finns i en upplaga av endast 234 st.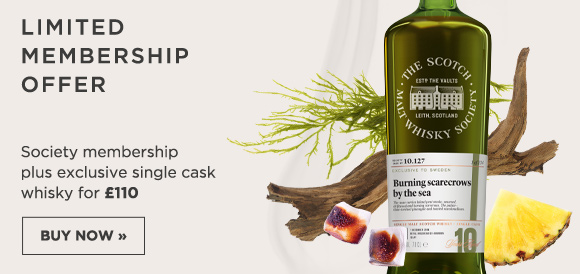 "The Society's expert Tasting Panel describe the whisky, which was matured in a refill hogshead ex-Bourbon cask, as having notes of "pebble beach, seaweed, sun-dried driftwood, bonfire, smoked mackerel and cigar boxes" on the nose, with "blow-torched pineapple and toasted marshmallows" on the palate."
About The Scotch Malt Whisky Society and Membership
The Scotch Malt Whisky Society is an international whisky club that bottles rare single cask, single malt whisky, and a range of other spirits
The Society was established in Edinburgh in 1983 and now has more than 26,000 members and branches around the world
The Society only ever bottles single casks – each cask is unique, making every Society bottling a limited edition
The Society has bottled whisky from more than 134 distilleries in its history
The Society releases a new batch of around 20 single cask, single malt whiskies every month
The Society offers different levels of membership

Membership Pioneer with welcome pack containing three samples – £122
Membership (without welcome pack) – £61.50
For more information about the Society, visit www.smws.com
WHISKY:
SMWS 10.127 10 y.o "Burning scarecrows by the sea"
STYRKA:
62%
ÅR: 2006
ÅLDER: 10 y.o
REGION:
Islay
TYP: Singlemalt
PRIS: £69
DESTILLERI:
Bunnahabhain
SB-ART NR:
–
PRODUCENT:
SMWS
LEVERANTÖR:
SMWS
ÖVRIG INFO:
Outturn: 234 btl. Flavor profile: peated, Cask: Refill hogshead ex-bourbon
Mina omdömen/kommentarer:
DOFT: 4.50 Ljuvlig doft med sotig maltnyans ifrån utbrunnen aska och rökta charkuterier. Rökt makrill, gummi och toner av lakrits. En riktig sniffwhisky att bekanta sig länge med!
SMAK: 4.50 Smaken är lite tudelad där kraftfull rökighet som ligger ganska långt fram i munnen inleder och som åtföljs av en torvrik fruktighet med stigande rök/pepparhetta.
ESMAK: 4.50 Avslutet rundas av med en förlängande rökighet som har riktigt goda inslag av sotig aska med lite ung och smakfull råhet i kanterna.
HELHET: 4.75 En mycket god, lite ungdomlig men balanserad och relativt rökig whisky med mycket smak och som ligger riktigt fint i munnen. JA TACK säger peatlovers!! 😛
TOTALPOÄNG: 17,75 av 20.00 p


I vanlig ordning för SMWS-buteljeringar är själva doft-och smakupplevelsen viktigare än ursprungsdestilleriet och där man bygger sitt "hemliga" etikett-nummer-system kring följande exempel (10.127) = siffrorna före punkten talar om vilket destilleriet är och siffrorna efter är vilken buteljering i ordningen det är ifrån destilleriet. (Givetvis finns det på internet och även här på freddeboos.se ganska kompletta nummerlistor för den "nyfikne")
Notering: 171028, sample, freebie – SMWS