Dags att presentera en nydrucken stout… en riktigt fet IMPERIAL STOUT som är bryggd på lönnsirap! Detta var verligen nått i hästväg, på många sätt och en smakupplevelse som jag gärna lägger på minnet!
AGAMEMNON… av Omnipollo! "Everything we like into one beer. Maple syrup, toasted almonds, bacon, coconut and vanilla. Caution! Contains actual nuts and real bacon."
Mitt omdöme: Omnipollo Agamemnon Monster Shake 12%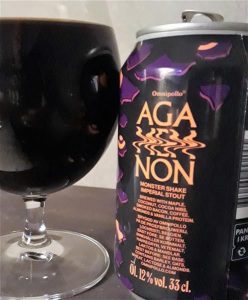 Mörka, söta sirapstoner blandas upp med lätt rökiga baconinslag och där man även blir översköljd av framvällande dofter av espressokaffe och chokladvanilj.
Smaken påminner om en ganska hårt gräddad brownie där bränt socker, choklad och rostade inslag ligger långt fram. WOW – detta är ett öl av den tyngre graden, både i fråga om smak och med en rejält hög alkoholnivå som väl kanske inte är helt maskerad, om man skall vara ärlig. Men oj vilka smaker… och som är nästan trögflytande och utan skum.
Jag tycker dock att den med tiden växer i smakerna och bara blir bättre och bättre och där den fylligt feta, chokladvaniljiga, lätt beska eftersmaken är pricken över i-et! Man kan också ana en del lakris, (rökig) bacon och kokosnöt.
MAFFIGT, REJÄLT, BRUTALT och jävligt TUNGT… ? Kostar också några kronor. Men det kan det vara värt! Om man vill ha en smakupplevelse något lite utöver det vanliga! 8/10 p 🙂
Råvaror: –
OG: – | FG: – | IBU: – | EBC: – (Vad betyder förkortningarna?)
Mer info:
Notering: 190302, FAN – Se alla smakade ölsorter
SORT: Omnipollo Agamemnon Monster Shake
SB ART.NR: 11334
TYP: Imperial Stout
STYRKA: 12%
PRIS: 69,90 kr (330 ml)
LAND: 🙂
PRODUCENT: Omnipollo

LEVERANTÖR: Omnipollo

Mycket God!

(Denna bör upplevas och drickas av gemene öl-fantast)

Rating: ★★★★★★★★☆☆ 8/10