Så har turen då kommit till Majesty 16, ännu en singlemalt ifrån ryktbara Highland Queen och som finns att få tag på via Systembolaget och den svenska whiskyimportören Clydesdale AB och som även finns omnämnd och betygsatt (90,5 p) i Jim Murray's Whisky Bible 2013.
"The Oak provides a complex smorgasbord of tannins and spice notes, as well as the usual butterscotch and liquorice. Buttered toast seems to be on the menu, too, as well as a puree of greengages and elderberries. It must be said that the quality of the casks has like the entire Highland Queen Majesty Portfolio, been of the very highest standard with not a single off note. Your Majesty I am impressed!"
WHISKY:
Highland Queen Majesty 16
STYRKA:
40%
ÅR: 2017
ÅLDER: 16 y.o
REGION:
Scotland
TYP: Singlemalt
PRIS: 700 kr
DESTILLERI:
–
SB-ART NR:
85085
PRODUCENT:
Highland Queen
LEVERANTÖR:
Clydesdale AB
ÖVRIG INFO:
–
Mina omdömen/kommentarer: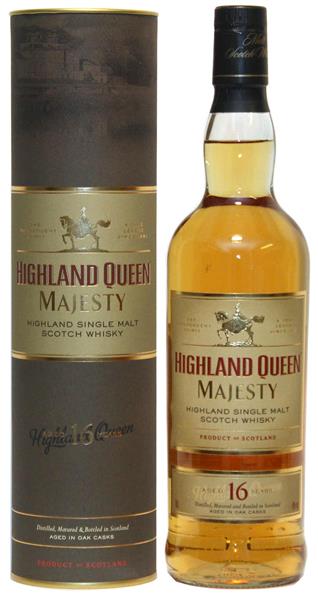 DOFT: Trivsam maltig doftton direkt man bekantar sig med varandra. Mer söt än besk och lättare päronnyanser kan anas tillsammans med mjuk blommighet och torkad frukt. Lite grainig karaktär i utkanten.
SMAK: Smaken överraskar lite grann då detta känns som en ganska kortfattad historia. Inledningsvis lite mera av de grainiga inslagen och med en något mera beskare underton än vad doften skvallrade om. De låga 40 procenten orkar inte riktigt lyfta fram denna whisky utan känns lite i tamaste laget och där smaken också blir lite klen. Maltiga gråpäron med liten beska i botten och torkad fruktig är det genomgående intrycket jag får av denna whisky och med mina mått mätt så finns här ingen större rökighet att tala om.
ESMAK: Lite brännande pepparstegring mot slutet som försöker pocka på uppmärksamheten och där några gråpäron snabbt drar förbi. En hel del maltiga inslag med lite grainig karaktär även här.
HELHET: Överlag en ganska rak och balanserad whisky som har lite grainiga inslag över hela paletten. Fylligheten känns också helt ok och har ganska hög maltighet med ett beskare sidospår som breddar smakupplevelsen lite grann. Lite synd på den korta smaken och där jag personligen tror på att denna hade vunnit på något högre styrka.
TOTALPOÄNG: 15.50 av 20.00 p