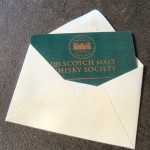 Så har då medlemskortet efter ett tags väntan anlänt och jag kan härmed avslöja att jag nu också är officiellt medlem i The Scotch Malt Whisky Society och i den Svenska avdelningen för SMWS Sweden.
SMWS är en klubb för alla whiskyälskande människor världen över och där medlemmarna förenas i intresset att dricka Single Cask Malt Whisky.
Medlemskapet erbjuder möjlighet att köpa flaskor ifrån väl utvalda whiskyfat.
 "Only single cask, single malt whiskies that promise to intrigue, entertain and delight out members are selected, true our motto: ' TO LEAVE NO NOSE UPTURNED '
Den svenska avdelningen för klubben är belägen i Nora och drivs av Bergslagens Destilleri. Här på destilleriet hittar man också Sveriges första "Societybar" och som har flera av SMWS buteljeringar till försäljning över disk.