Via ett exklusivt medlemserbjudande ifrån SMWS – The Scotch Malt Whisky Society som nu finns tillgängligt för alla oss whiskyälskare här i Sverige kan nya medlemmar och så länge lagret räcker (# of bottles: 189) få en flaska SMWS 53.296 12 y.o "Ash on a sponge cake" 57,4% och ett SMWS-medlemskap för endast £122. Redan existerande medlemmar kan givetvis också köpa flaskan och som då kostar £71.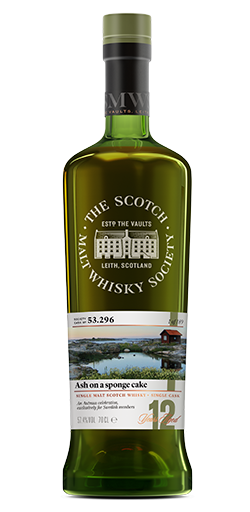 "Burning gorse produced a soft smoke as the salty sea breeze carried delicate wafers of ash that settled on the sticky apricot jam topping of a sponge cake. Ice cream cones melted in the sun with the soft fruit of peaches and cream. The evocative aromas of smoked mackerel and mussels in a cream and wine sauce delivered a lovely combination as they merged with fresh white oak. The palate warmed with a ginger spice alongside a charcoal grill as the coals crumbled away into ash. Sweet and sticky notes conjured images of toasting marshmallows on burnt sticks in a malt kiln before the weight of tar-covered ropes combined with scorched wood on the long finish." //SMWS
About The Scotch Malt Whisky Society and Membership
The Scotch Malt Whisky Society is an international whisky club that bottles rare single cask, single malt whisky, and a range of other spirits
The Society was established in Edinburgh in 1983 and now has more than 26,000 members and branches around the world
The Society only ever bottles single casks – each cask is unique, making every Society bottling a limited edition
The Society has bottled whisky from more than 140+ distilleries in its history
The Society releases a new batch of around 20 single cask, single malt whiskies every month
For more information about the Society, visit www.smws.com
WHISKY:
SMWS 53.296 12 y.o "Ash on a sponge cake" 57,4%
STYRKA:
57,4%
ÅR: –
ÅLDER: 12 y.o
REGION:
Islay
TYP: Singlemalt
PRIS: £71 (inkl. membership £122)
DESTILLERI:
(Caol Ila)
SB-ART NR:
–
PRODUCENT:
SMWS
LEVERANTÖR:
SMWS
ÖVRIG INFO:
Refill Ex-Bourbon Hogshead, # of bottles: 189
Mina omdömen/kommentarer:
DOFT: Lätt sotig inledning med lite medicinal karaktär. Anar myntablad och citronmeliss i kulissen. Impregnerad telefonstolpe och hamparep som legat en tid på botten av en gammal eka tillsammans mes sjögräs. Så jäkla nice!! Läderskärp och lite målarfärgston kan också hittas.

SMAK: Underbar inledning med ganska snabbt tilltagande sotig rökighet. Svavel, sot/aska blandas med en lite vegetativ bakomliggande ton som ger smaken en riktigt god och upplyftande fräschör. Här finns också en viss beska som även för med sig en del torrare träfatsinslag att suga länge på…
ESMAK: …innan den växlar upp och släpper fram ännu lite mera beska. Ganska läder-, och torrstramt avslut som har en hel del efterföljande och smakfulla rökslingor i sig. Gillas!
HELHET: En välbalanserad och god rökwhisky som har en del stramare inslag och en liten torrbeskhet i sig. Tycker personligen att den även skiftar lite i karaktären under smakresans gång, ifrån att ha en ganska tjärpastill-aktig inledning till att få en något mera utbrunnen brasa/torvsträv nyans.
Ev. kommentar: Ännu ett praktexemplar på en väl utvald whisky ifrån The Scotch Malt Whisky Society!
TOTALPOÄNG: 17,50 av 20.00 p


Notering: 191018, sample, freebie – SMWS
Bildkredit: SMWS

Unika buteljeringar
Som vanligt för SMWS-buteljeringar är själva doft-och smakupplevelsen viktigare än ursprungsdestilleriet och där man bygger sitt "hemliga" etikett-nummer-system kring följande exempel (10.127) där siffrorna före punkten talar om vilket destilleriet som producerat whiskyn är. Siffrorna efter punkten berättar vilken buteljering i ordningen det är ifrån just det aktuella destilleriet. (Runt om på internet finns givetvis vid det här laget och även här på freddeboos.se ganska kompletta nummerlistor för den som är"nyfiken" och som gärna vill veta vilket destilleri det är som gömmer sig bakom det chiffrerade nummret)