"En välbalanserad brittisk bitter med aromer av frukt, choklad och karamell…" – Ja, så lyder produktbeskrivningen på Örebro-bryggeriets hemsida och där det nu för mig har blivit dags att presentera mina anteckningar för denna nyligen smakade pale ale och bitter-öl.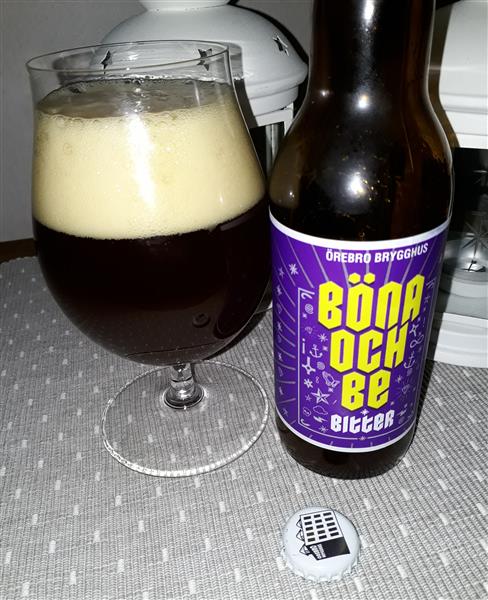 Mitt omdöme: Böna och Be Bitter 4,6% (Örebro Brygghus)
Smaken har en lättare sötma och en del toner av kola/karamell, rostade inslag, knäck och torkad frukt och och med liten bitterhet utan att bli alltför skarp.
Humlesmaken finns där men är inget man lägger på minnet och där eftersmaken har en lite torrare munkänsla.
Nja, drickbart men ingen större favorit… 5/10p
Notering: 180131

Malt: Pale Ale Malt, Crystal 150, Crystal 300, Vetemalt, Chokladmalt
Humle: Target, East Kent Golding, Fuggle
OG: – | FG: – | IBU: 32 | EBC: –
SORT: Böna och Be Bitter 4,6%
SB ART.NR: 31143
TYP: Engelsk pale ale och bitter
STYRKA: 4,6%
PRIS: 24,90 kr (330 ml)
LAND:
PRODUCENT: Örebro Brygghus

LEVERANTÖR: Örebro Brygghus

Medel God (Jo, tack jag kan väl ta en öl till… men sen är det bra)

Rating: ★★★★★☆☆☆☆☆ 5/10
"Om pale ale serveras från fat kallas ölet bitter, trots att smaken inte behöver vara så besk som namnet antyder. Ibland är bitter mörkare och svagare än engelsk pale ale, men inte alltid. Historiskt var bitter också motparten till den sötare och mindre beska ölstilen mild.
Skillnaden mellan en amerikansk pale ale (APA) och en engelsk pale ale är att man använder amerikanska humlesorter i APA, som ger mer humlearomatisk karaktär och ger aromer av citrus, fläder och tropisk frukt.
Ordet pale ale har från början använts som ett samlingsnamn för ljusare öl. Ölet india pale ale (IPA) bryggdes främst för att skickas till den brittiska kolonin Indien, men för att möta efterfrågan i England så började man också brygga en alkoholsvagare variant av india pale ale – som kort och gott blev pale ale." //Systembolaget