Ballantine´s förknippar nog de allra flesta med blended-whisky och där man under slutet av året 2017 släppte en ren singlemalts-tappning av Glenburgie och som är en ingående whiskysort i deras välkända whiskyblandning.
Ballantine´s The Glenburgie 15 y.o (Series No 001) 40%, är som vi skojsamt brukar säga inom whiskyklubben en *ISO-whisky som återfinns i Sb´s ord. sortiment (Art nr: 911) och som i dagsläget kan inhandlas för 399 kr.
*I Systembolagets Ordinare sortiment under 400 kr
WHISKY:
Ballantine´s The Glenburgie
STYRKA:
40%
ÅR: 2017
ÅLDER: 15 y.o
REGION:
Speyside
TYP: Singlemalt
PRIS: 399 kr
DESTILLERI:
Glenburgie
SB-ART NR:
911
PRODUCENT:
Chivas Brothers
LEVERANTÖR:
Pernod Ricard Sweden
ÖVRIG INFO:
Ballantine's Series No 001
MINA OMDÖMEN OCH BETYG FÖR: Ballantine´s The Glenburgie 15 y.o Series No 001 40%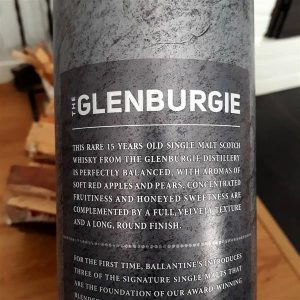 DOFT: 3,75 Karamellkola med apelsinskal, vanilj och honung. Anar även lite sköljmedel och grönt gräs. En lättsam och tilltalande doft!
SMAK: 3.50 Lätt grain-aktig smak med torkade aprikoser, röda äpplen och kolatoner i utkanterna tillsammans med lite vanilj. En orökig whisky som känns aningens tunn i smaken och där det finns en liten okomplex och urvattnad känsla. Vore riktigt intressant att kunna få smaka denna i högre alkoholstyrka!
ESMAK: 3.50 En del beska nyanser som bryter igenom men som är ganska flyktiga och ej så långvariga. Gräddkola och svag vanilj. Lite platt i smakerna på sluttampen och där viss alkoholhetta återfinns.
HELHET: 3.75 En hyfsad vardagswhisky som lovar ganska stort i doften men som faller, och skiljer sig lite grann i smaken. Upplever den något tunn och där den lite grapetonsbeska/grain-iga undertonen som framträder i eftersmaken drar ner betyget lite för min del. Bjudwhisky och en vardagswhisky som helt klart är prisvärd!
TOTALPOÄNG: 14,50 / 20.00 p