Ännu ett varv har gått och ännu har en ny Ardbeg-nasare nyss lanserats och i samband med den årliga whiskyfestivalen Feis Ille som hålls ute på Islay firades igår den 1 juni Ardbeg Day tillsammans med alla (rök)whiskyälskare som finns världen över.
Och för första gången i Ardbegs historia får whiskydrickare chansen och om man har lyckats knipa nån av de nästan löjligt åtråvärda flaskorna, smaka på en romlagrad singemalts-whisky ifrån detta stora rökwhiskydestilleri. (En whisky som lagrats på ex-bourbon casks och ex-rum casks from the Americas).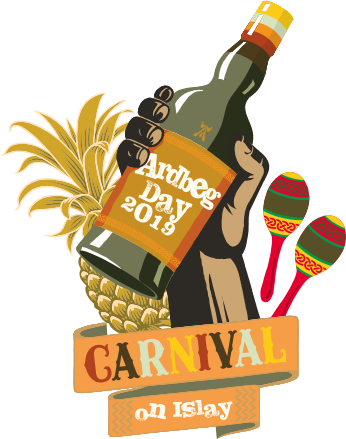 "Inspired by Islay's rich history of carnivals, this whisky is a bottling imbued with the ultimate influence of carnival spirit, rum. In a first for the Distillery, we have taken Ardbeg single malt from ex-Bourbon casks, rested it awhile in ex-rum casks from the Americas, giving us…Ardbeg Drum. "
So, let the rumbustious revelry begin! 🙂
WHISKY:
Ardbeg Drum Committee Release (2019) 52%
STYRKA:
52%
ÅR: 2019
ÅLDER: NAS
REGION:
Islay
TYP: Singelmalt
PRIS: 999 kr
DESTILLERI:
Ardbeg
SB-ART NR:
40389
BUTELJERARE:
Ardbeg
LEVERANTÖR:
Moët Hennessy Sverige
ÖVRIG INFO:
ex-bourbon casks, ex-rum casks from the Americas, Non chill-filtered
Mina omdömen: Ardbeg Drum Committee Release (2019) 52%
DOFT: Underbart, rejält asknyanserad rökighet som har en hel del kreosotiga undertoner. Dock inte så mycket av romkaraktären som orkar lysa igenom denna ändå ganska tungbreda doftkaramellen.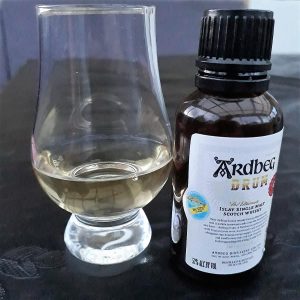 SMAK: Det första som slår mig är att den tunga röken är rejält dominerande och tar rejält med plats och där de kreosotiga, skorstensrökiga inslagen liksom fyller hela upp hela gommen. Lite längre ner och lite bakom allt detta rökiga finns det nånting mera, nånting lätt exotiskt och fruktigt. Papaya? Ananas? Banan? Och där, precis i gränslandet när röken falnat av och eftersmaken långsamt drar ut kan man känna en del av den underliggande romlagringen.
ESMAK: En del askbetonad rökighet stannar kvar och där smakupplevelsen blir något lite torrare ju längre tiden går. Här finns även lite vaniljsötma som varvas med en lättare beskhet.
HELHET: Tycker de karaktäristiska Ardbeg-nyanserna hittas mer i doft och smak men där den blir lite tammare i avslutet. Det är goda smaker och en härlig rökighet med litet rominslag och exotisk fruktighet. Dock inte en det bästa jag smakat härifrån och där jag tycker att de bärande smakerna blir något glesare med tiden i glaset. Men det är ändå riktigt gott och detta får självklart tummen upp från mig!! :)?
Ev. kommentar: Om uppgifterna stämmer vill jag också passa på att skicka en viral hälsning till de styrande för det svenska spritmonopolet och Systembolaget med anledning av att dessa whiskyflaskor ifrån Ardbeg tydligen inte fick säljas med det tillhörande halsbandet, då det anses som spritreklam…
Så urbota LÖJLIGT!
TOTALPOÄNG: 17,50 / 20.00 p


Notering: 190601, Sample