I sedvanlig ordning har julledigheten innefattat flera goda och trevliga whiskyupplevelser som har kunnat avnjutas till minnet och i saknandet av bortgånga närstående och i värmen av familj, släkt och vänner och där inga närmare smaknoteringar har tagits.
Men det har också funnits lite tid över mellan julklappsutdelningar och ätandet att sätta sig ner och försöka gå på djupet på en egeniförskaffad sample av en ny årgångswhisky med namnet Traigh Bhans ifrån Ardbeg-destilleriet. (Stort tack till TTO för möjligheten att smaka och för den välgjorda etiketteringen!)
Detta är den första batchen av en whisky som ej är kylfiltrerad och som tydligen kommer att släppas årligen ifrån destilleriet och där namnet Traigh Bhan ['Tri-Van'] anspelar på de vackra vyerna vid kustbandet Kilnaughton Bay och stranden Singing Sands som hittas ute på Islay. Bokstäverna MH i slutet av batchnumret står för Mickey Heads (Distillery Manager) och där det förutom platsangivelsen (TH – Traigh Bhans) även med hjälp av siffrorna (15.03.00) går att utläsa datumet som indikerar den yngsta destillerade spriten varje år…
"The year of the millennium bug threatened computer systems around the world, thankfully on the Isle of Islay we were unaffected…"
WHISKY:
Ardbeg Traigh Bhan (TB/01-15.03.00/19.MH)
STYRKA:
46,2%
ÅR: 2019
ÅLDER: 19 y.o
REGION:
Islay
TYP: Singlemalt
PRIS: 1 799 kr
DESTILLERI:
Ardbeg
SB-ART NR:
40577 (tf. sort)
PRODUCENT:
Ardbeg
LEVERANTÖR:
Moët Hennessy Sverige
ÖVRIG INFO:
Fattyp: amerikansk ek-, oloroso och sherryfat,
Mina omdömen: Ardbeg Traigh Bhan 19 y.o 46,2% (TB/01-15.03.00/19.MH)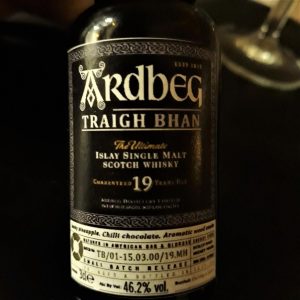 DOFT: Asktorr doft som är lite höaktig. Toner av olja och vedeldad panna, tillsammans med en hel del träiga nyanser, lite citrus och läder. Svag vanilj och lite citrusfrukt.
SMAK: Hittar mer citrusfriska inslag i smaken där också en skopa med mineraler tillkommit och som backar upp den asktorra, supergoda rökigheten. Upplever dock smaken lite lätt vattnig mellan "tunga och gom" (som Kjell R. brukar säga) och som gärna kunde ha fått varit något fylligare.
ESMAK: Eftersmaken på denna mjuk bronsfärgade whisky har en del torra, rökiga toner som långsamt drar bort där även en del gräsiga inslag noteras tillsammans med lite chili. Inte brutalrökigt men ändå ganska kraftfullt.
HELHET: Mycket trevlig Islay-rökare med god asktorr rökighet med lite mineraliska, lättsaltade undertoner. På minussidan upplever jag den något vattnig och där man saknar lite djupgående tyngd. (Smakerna och rökigheten tycker jag till största delen ligger ganska ytligt och ganska högt upp och långt fram i munhålan och tyvärr inte så mycket av svavelosande avgrundsvrål långt nerifrån strupen, som man allra helst vill ha). Tycker detta ändå är förträffligt gott och landar högt upp på min poängskala.
TOTALPOÄNG: 18,00 / 20,00


Notering: 191224, sample (TTO)