Det har börjat ploppa upp fler och fler whiskybloggare och bloggsidor här ute i landet (vilket ju är otroligt kul!!) och som man allt som oftast dyker på när man är ute och scannar av nätet efter nya smakupplevelser. (Ni har väl inte missat den ibland något tungladdade undersidan "Rss-(whisky)feeds" där flertalet av dom finns samlade här på min egen blogg?) Allas vår gemensamma nämnare är självklart intresset för whiskyn och jakten på de bästa gyllene dropparna samt att dela med oss av våra smaknoteringar, betyg och åsikter.
En förhållandevis ung och nytillkommen sida är Mickes Whisky och som kan hittas både på Facebook och Instagram samt även Twitter. Det är också Micke som har förärat mig med en sample av denna Port Cask-lagring av denna Speyside-whisky i serien The Exclusive Malt (Creative Whisky Company) ifrån ett okänt destilleri. (Ett insider-tips hintar om Glenfarclas) Tack Micke! 😀
WHISKY:
The Exclusive Malts 2004 Speyside 10 Y.O Port Cask
STYRKA:
57,7%
ÅR: 2004
ÅLDER: 10
REGION:
Speyside
TYP: Single Malt
PRIS: – kr
DESTILLERI:
?
SB-ART NR:
–
BUTELJERARE:
Creative Whisky Company
LEVERANTÖR:
Creative Whisky Company
ÖVRIG INFO:
–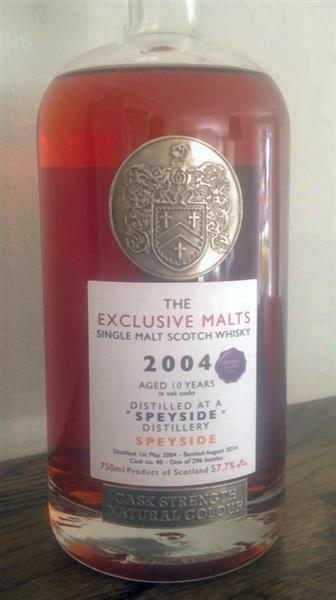 DOFT: 4.00 Härligt portvinsinslag i doften som ger det kopparfärgande innehållet en skimmrande rödlätt ton. Svag vanilj anas i bakkanten. Torkad frukt och träton dyker också upp. Fräscht!
SMAK: 4.25 Ovattnad bjuds man på en bred och kraftfull smak där det lite sträva portvins-inslaget ligger långt fram. God sötma tillsammans med lite mera brännande chiliton. Några droppar vatten mjukar upp och släpper fram lite mera kryddig svartpeppar, röda vinbär och torkade äpplen. Gott!! 🙂
ESMAK: 4.00 I eftersmaken hjälper de torkade frukterna, de kryddiga inslagen (och garvsyran) till att förlänga hela smakupplevelsen och placerar den i längdmässigt i kategorin medellång.
HELHET: 4.00 En trevlig och god Port Cask-lagrad whisky som har ett litet pepprigt sting i sig. Växer med några försiktigt tillsatta droppar vatten.
Ev. kommentar: Portvinslagrad whisky kan ofta vara en åsiktsdelare… Antingen gillar man tonerna och det lite sträva inslaget av garvsyran (tanniner) eller inte. Jag gör det definitivt!
TOTALPOÄNG: 16,25 / 20.00 p

Notering: 150616, Sample, (Micke A)
Photo Credit: Micke A