För att fira och förära min namnsdag (18 juli) och alla med det praktfulla namnet Fredrik så tänkte jag smaka på nått spännande och vad kan bli mera intressant än att utforska en whisky ifrån ett av våra långt gångna och inhemska svenska destillerier, nämligen BOX Whisky. 😀
BOX Whisky släppte i början av sommaren sin tredje utgåva ur serien The Early Days Collection. En bourbon-lagrad whisky ifrån tre olika fatstorlekar (40- 100- och 130 liter) och där ca 60 procent kommer från ett rökigt destillat och där 12% nya ekfat (Virgin Oak) har använts för att lagra denna whisky. 
Freddeboos.se fick under slutet av våren en helt unik chans att tillsammans med ett gäng flera andra svenska whiskybloggare möjlighet att kunna besöka Box-destilleriet och att få förhandstesta denna utgåva. Tyvärr hade jag förhinder och fick tacka nej. (Grrr… jäkla osis!! Det hade varit skoj, men men shit happens!)
Har dock i efterhand lyckats nosa rätt på en sample… till att trösta mig med. 🙂
 WHISKY:
 BOX The Explorer (The Early Days Collection)
 STYRKA:
 48,3%
 ÅR: 2015
 ÅLDER: 3,3 år
 REGION:
 Sverige
 TYP: Singlemalt
 PRIS: 837 kr (50 cl)
 DESTILLERI:
 Box Destilleri
 SB-ART NR: 
 92164
 BUTELJERARE:
 Box Destilleri
 LEVERANTÖR:
 Box Destilleri
 ÖVRIG INFO:
 Nr of Btls: 10 549 st, 1st fill bourbon samt ny amerikansk, ungersk och svensk ek
DOFT: 3.50 Lätta, ljusa toner av halm, päronsaft och en något mera träig, ekfatsbaserad ton. I botten finns även en strimma av rökig gummiton tillsammans med ett dovare fatinslag. Honungskaka och några myntablad sveper också förbi.(Ju mera man doftar och låter den öppna upp sig desto mera gillar man det!)
SMAK: 3.50 Det är en ganska bred och kraftfull smak som breder ut sig i munnen. Återkommande är halminslaget och honungen. Nånting lite mera svagt pepprigt har tillkommit och bytt plats med det tidigare gummiaktiga och som ger en lite hetare munkänsla. Lite ungdomlig spritighet kan också anas. 
ESMAK: 3.25 Eftersmaken består också den av en del kryddiga inslag, lite anis och är medellång.
HELHET: 3.50 Överlag en smakrik whisky med ett svagt rökinslag och lite kryddig pepparton. Lite ungdomligt rå i karaktären men ändå en trevlig smakupplevelse och kan redan nu vid denna ålder matcha ett flertal skotska whiskysorter. Noteras kan att priset endast avser 50 cl…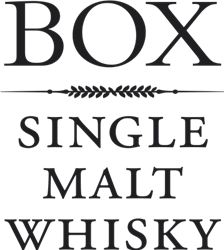 Ev. kommentar: De rökiga influenserna och som påminner mycket om rådestillatet Box Försmak som jag tidigare har smakat på, upplevs dock här inte fullt så rökiga utan har en lite mera gummibaserad ton. (typ gråa tjockmattan i gymnastikhallen. Tycker rökig Ledaig också är en gemensam nämnare. Keep up the good work!).
TOTALPOÄNG: 13,75 av 20.00 p

Notering: 150710, Sample (MFA)
Photo Credit: Logo – Box Whisky
Läs andras omdömen, betyg och poäng :