The Art Collection är en helt ny whiskyserie ifrån Bergslagens Destilleri och där man har använt sig av och buteljerat tre stycken olika single cask fatbutljeringar på 225 liter vardera. Det ingående destillatet i alla faten har varit på 50 ppm och där alkoholstyrkan är anpassad.
De tre utgåvorna som min blogg har fått den stora äran att provsmaka några droppar utav släpps den 11/3, 1/4 och 15/4 på Systembolaget och är:
The Art Collection Port Cask (2011) 55%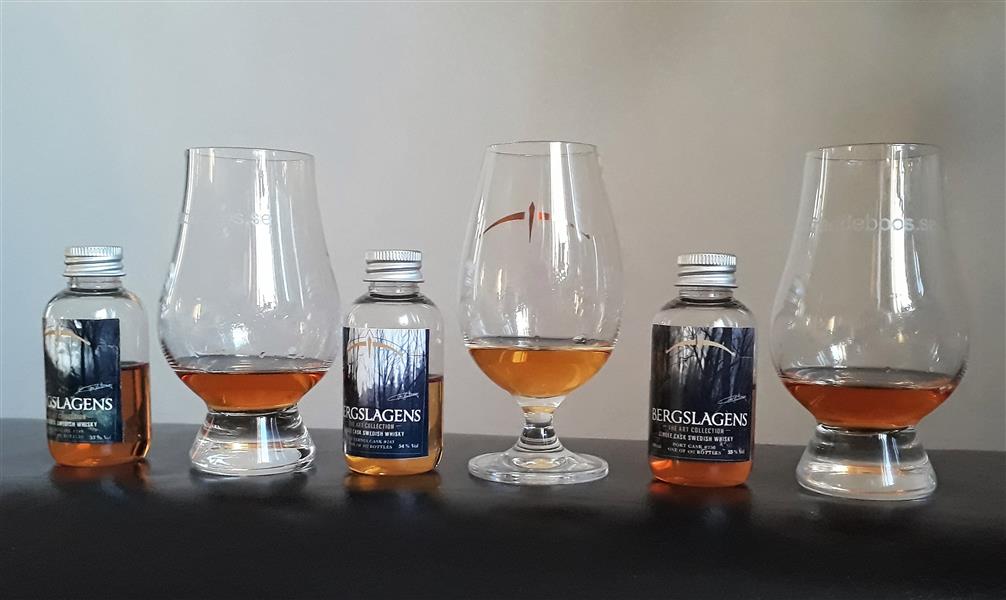 Med destilleriets förkärlek till etiketter som står ut lite grann ifrån mängden och där det finns lite jobb och en tanke bakom så har man valt att jobba med lite olika konstnärer som kör med olika stilar och uttryck. Till dessa första utgåvorna i denna whiskyserien har man anlitat Pär Strömberg ifrån Örebro och där hans akvarellserie "Fasaskogen" har fått pryda flaskorna och där motiven kommer ifrån Bergslagen.
"Konstnären farmors far var skogvaktare i Fasaskogen, ett vildmarksområde i Södra Kilsbergen i utkanten av Bergslagen. Här upptäckte Pär Strömberg den djupa otillgängliga och trolska naturen som kom att bli en stor inspiration i hans konst. Sviten Fasaskogen I, II & III är akvarell på papper, 28 x 28 cm." Läs mer om konstnären här.
WHISKY:
Bergslagens The Art Collection Port Cask (2011) 55%
STYRKA:
55%
DEST. ÅR: 2011
BUTELJERAD: Feb, 2019
REGION:
Sverige
TYP: Singlemalt
PRIS: 995 kr (50 cl)
DESTILLERI:
(Grythyttans Destilleri)
SB-ART NR:
83453
BUTELJERARE:
Bergslagens Destilleri
LEVERANTÖR:
Bergslagens Destilleri
ÖVRIG INFO:
Fattyp: Port Cask (255 l) 1st fill, 50 ppm, 492 btl, (säljstart 190401)
Mina omdömen/kommentarer: Bergslagens The Art Collection Port Cask

DOFT: En något rödlätt whisky som bjuder på skön portvinssötma och där man även kan ana en viss torr strävhet redan i doften. Gillar doften på denna!

SMAK: Ganska fyllig och smakrik whisky. I alla fall till att börja med. Tycker smaken tonar ut ganska fort men där portvinssötman hänger kvar. Hittar även en del träfatstoner som är både mjuka och lite sträva. Och faktiskt riktigt goda.
ESMAK: Avlämnar en ganska lång svans som är både söt och lite torr. Här finns även lite träfatsbeska och en mjuk ton av röda vindruvor. Gott!
HELHET: Förvånansvärt hur mycket portvinslagringen lyckas maskera bort den ändå ganska hög ppm-nivån som man på förhand kunde tro skulle påverka smaken mer. En viss rökig svans finns där dock men tycker den är i nivå som hos en lättrökig speyside-whisky.
TOTALPOÄNG: 15.00 av 20.00 p


Notering: 190327, Sample, varuprov, Bergslagens Destilleri
Fotokredit: (lånad bild, Pär Strömberg),, Bergslagens Destilleri