Ensam hemma, ledig och tre stycken nyinförskaffade samples av Box 2nd Step Collection. 01, 02, och 03! 😀
Självklart måste detta utnyttjas och speciellt då med tanke på min stora nyfikenhet på de båda sistnämnda (med sherry och rök) och som jag inte tidigare har fått känna på. 01:an är sedan tidigare avsmakad och betygsatt då jag haft en egen flaska hemma men givetvis blir det en omprovning av denna för att se om mitt tidigare betyg står fast.
Den som själv dricker whisky vet att smaksinnet kan förändras lite grann och där man kan få lite andra infallsvinklar beroende på ex. rumstemperatur, omgivning, vad man tidigare ätit, nivån i flaskan, dryckesverktyget (glaset) mängden droppar vatten, om man vattnar sin whisky osv osv.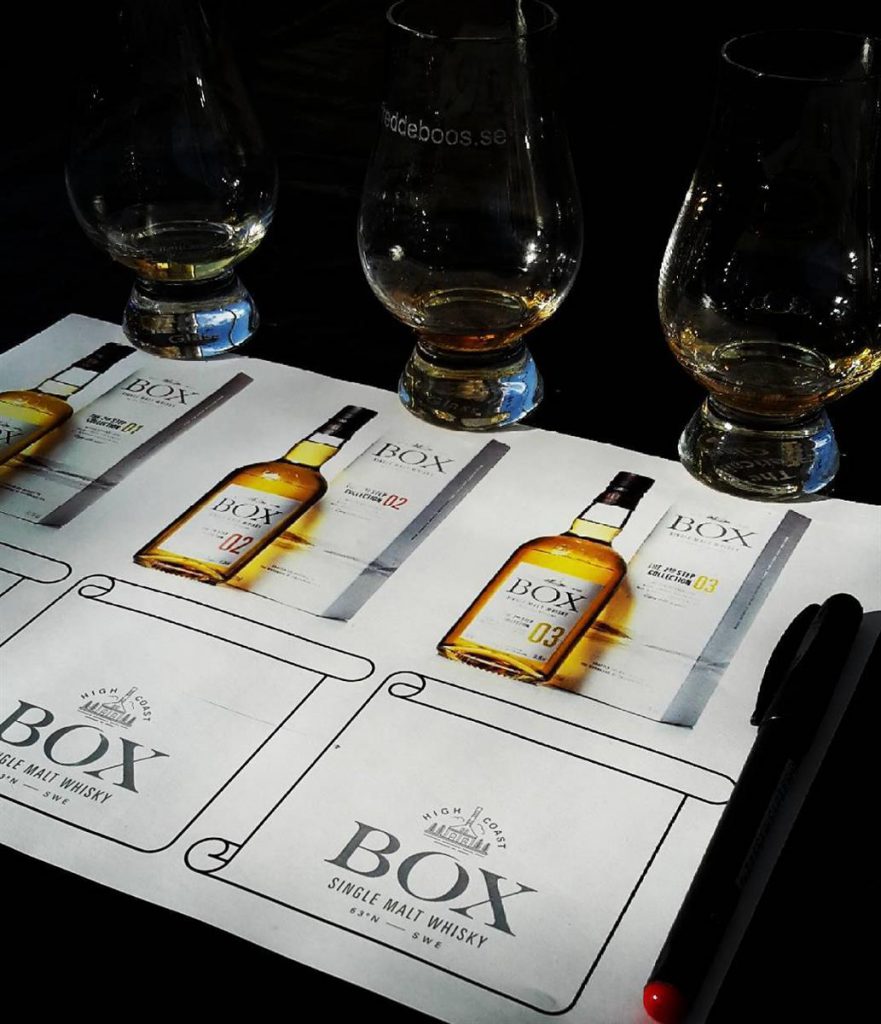 Min lilla egenkomponerade BOX-whisky-provning blir denna gången av helt öppen karaktär och där jag vet vilken av whiskysorterna som finns i varje respektive glas. (mängden som smakas är 3 cl).
För den som är intresserad och riktigt inbiten och verkligen vill veta allt om innehållet, fatinformationen, när hjärtat är skuret, fatstorlekar osv. rekommenderas definitivt att besöka sidan med den föredömligt och väl preciserade produktinformationen som BOX Whisky tillhandahåller kring alla sina flaskor. (Stor eloge för detta!)
Sorter i lineup'en:
BOX The 2nd Step Collection 01, 51,1%
BOX The 2nd Step Collection 02, 51,2%
BOX The 2nd Step Collection 03, 51,3%
WHISKY:
BOX The 2nd Step Collection 02
STYRKA:
51,2%
ÅR: 2016
ÅLDER: 4,96 år
REGION:
Sverige
TYP: Singel Malt
PRIS: 747 kr
DESTILLERI:
Box Destilleri
SB-ART NR:
–
PRODUCENT:
Box Destilleri
LEVERANTÖR:
Box Destilleri
ÖVRIG INFO:
5096 flaskor st flaskor, Fenolhalt: 0 och 43 ppm. Snitt 3,7 ppm (malt)
Mina omdömen, betyg och kommentarer:
DOFT: Gyllene whisky som drar åt mahognyhållet i färgen och där det även i doften finns runda, goda sherrynyanser som bryter av de lite mera maltbetonade inslagen.
SMAK: Smaker av lättare sherry ligger ganska långt fram här och har en lite strävhet i bagaget och som dominerar hela smakresan. Svagare rökkaraktär kan anas ifrån bottenlagret. (som gärna får bli ännu mera påtaglig för min del)
ESMAK: Ljust trä och mjuk maltighet stöttar upp hela vägen fram till den medellånga eftersmaken. Litet brännande pepparhetta smyger också upp till ytan.
HELHET: Ovattnad lite vass och uppkäftig men där några droppar vatten rundar av och släpper fram mera russin i både doft och smak. Tappar dock lite grann av trycket och styrförmågan med vatten i. (Tycker den vinner på att vattnas lite men känns som det kan krävas lite tålamod att finna sin exakta personliga nivå här).
TOTALPOÄNG: 15,50 / 20.00 p