[3:e Advent – AWC´s JULBOX 2015]
Igår blev det lite Lucia-firande tillsammans med provsmakning av den tredje blindsamplen ut ifrån AWC's JULBOX ~2015~. Ett litet minievent i form av ett halvt blindprov (vi vet sorterna men inte i vilka flaskor) och där varje deltagare privat avsmakar, gissar och sätter sitt enskilda betyg på 5 st olika whiskysorter under december månad.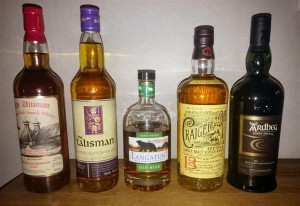 Whiskysorterna som ingår är följande:
# Bunnahabhain 2002 The Ultimate 11 y.o 46%
# The Talisman (blended) 40% (Scotland)
# Langatun Old Bear 40% 2008 3 y.o (Schweiz)
# Craigellachie 13 46% (Speyside)
# Ardbeg Corryvreckan 57,1% (Islay)
Alla rätta fem samplessvar kommer att presenteras här (och på AWC-sidan) i sin helhet efter jul/nyår…
 WHISKY:
 Bunnahabhain 2002 The Ultimate 11 y.o 46%
 STYRKA:
 46%
 ÅR: 2002
 ÅLDER: 11 yo
 REGION:
 Islay
 TYP: Singlemalt
 PRIS: 499 kr
 DESTILLERI:
 Bunnahabhain
 SB-ART NR: 
 –
 PRODUCENT:
 Bunnahabhain
 LEVERANTÖR:
 van Wees
 ÖVRIG INFO:

SORT: 3:e Advent – Bunnahabhain
DOFT: 3,25 Inledningsvis lite nedtonad, nästan lite lumpen doft med inslag av gulsåpa. Söta och sherryinspirerade nyanser försöker bryta sig upp från bakgrunden tillsammans med lite mjukare maltighet.
SMAK: 3.50 Sirap, smör och kolasås anas i den nu ganska beska smaken som framkommit efter en liten stund i glaset. Lite strävtorra inslag dyker också upp som också har en del spritiga inslag. Liten förnimmelse av rök.
ESMAK:3.25 Ett ganska torrt avslut som efterlämnar en del beska i munnen och som också tar överhanden något.
HELHET: 3.25 Sherrynyanserna lyckas inte riktigt blomma ut i sin allra fullaste prakt här. En hygglig whisky som skulle vinna på lite mera fruktighet och något kraftigare sherrykaraktär.
Ev. kommentar: Hade något högre förväntningar på denna (om min gissning är rätt) och blev lite besviken…
TOTALPOÄNG: 13,25 / 20.00 p

Notering: 151213